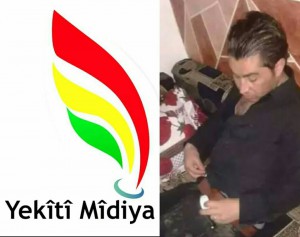 Yekiti Media reporter ( Roni Bakji ) has been kidnapped by PYD masked militants in Derik City in Syria's Kurdistan.
Roni Muhamad  Bakji has been kidnapped and hit by the PYD militants on Monday 11th, 4, 2016 in the evening in Derik city after he  returned from  covering  a seminar about Civil Peace in a church  in Derik.
This action is one of  the criminal series that aimed "Yekiti Media" site and its staff by PYD, its Media and military organizations starting in hacking Yekiti Media's  Facebook page , arresting Faridon Kicho in Amouda , Jindar Barakat in Hassaka, Masoud Hamdi in Tirbasipiya as well as kidnapping, hitting and cutting Jankin Aliko's finger and throwing him in a deserted area in Derbasiya (a city in North Syria – Syria's Kurdistan) countryside.
Yekiti Media management, journalists and reporters demand all the human right organizations and all Media to press on PYD to give up his violent and terrorist acts, especially towards Yekiti Media and its staff.
Finally, we confirm that we are moving forward in our mission in order to show the free word which is the voice of our exhausted people.
Yekiti Media
12-4-2016