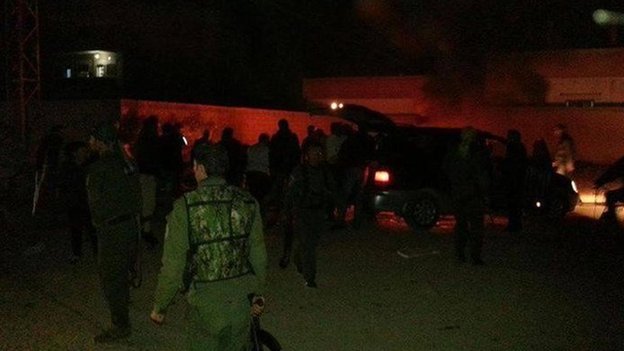 More than 20 people have been killed in twin bomb attacks targeting Kurds marking Persian New Year, or Norouz, in north-eastern Syria, activists say.
Syrian state TV said the bombs exploded in the al-Mufti district of Hassakeh, a largely Kurdish-controlled city.
The Syrian Observatory for Human Rights said one of the attacks was carried out by an Islamic State suicide bomber.
Kurdish militia have been battling the jihadist group across northern Syria and neighbouring Iraq in recent months.
On Thursday, IS published a video showing the beheading of three captured Iraqi Kurdish Peshmerga soldiers, which it said was in retaliation for the bombardment of areas under its control.
'Message for Kurds'
The Syrian Observatory, a UK-based group that monitors the conflict in Syria through a network of activists, said the suicide bomber blew himself up at a gathering in Hassakeh on the eve of Norouz, the big holiday when Kurds and others in the region mark the spring equinox.
The bombings left 20 people dead and wounded dozens, it added.
The Syrian Observatory said it believed IS was behind the bombings, as did a spokesman for the Popular Protection Units (YPG), the main Kurdish militia operating in northern Syria.
Redur Xelil told the Reuters news agency that most of the dead were women and children.
YPG fighters backed by US-led coalition aircraft have made significant gains against IS in recent weeks in northern Syria, severing an important supply route between the jihadist group's strongholds in Syria and Iraq. Hundreds of people have been killed in the fighting.
Across the border, Peshmerga forces from the Kurdistan Region of Iraq have also retaken territory in an ongoing offensive to regain ground they lost to IS last August.
The video posted online by IS on Thursday evening shows militants in black combat gear killing three men in orange jumpsuits, identified as captured Peshmerga soldiers.
Speaking in Kurdish, members of IS accuse Kurdish leaders of misleading and betraying their people by teaming up with the US and Iran, which are both assisting Iraqi government forces.
The BBC's Jim Muir, who is in the Kurdistan region's capital Irbil, says the aim is clearly to get the message across to the Kurds.
Like most IS videos, our correspondent says, it is heavily produced, with Koranic chanting, dramatic slow-motion effects and footage of damage and casualties apparently caused by shelling. But presumably to maximise its impact, it was released just before Norouz, he adds.
BBC