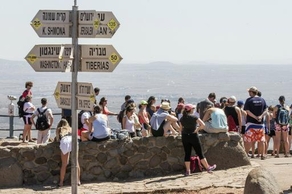 Beirut (AFP) – Syrian rebels have made fresh advances near the Israeli-occupied Golan Heights in Quneitra province, where 26 troops and 17 rebels were killed in a battle on Saturday, a monitoring group said.
Fighting has raged in the province since August, when rebels and the Al-Qaeda-affiliated Al-Nusra Front took control of a border post.
"Rebels have since taken control of hills overlooking the border post, as well as several villages nearby, (after battles that killed) a large number of troops on both sides," Syrian Observatory for Human Rights director Rami Abdel Rahman said Sunday.
On Saturday, "the regime tried to take back the village of Msahra, but failed", said Abdel Rahman, with the fighting leaving the 43 dead on both sides.
Over the course of Saturday's fighting, the rebels also seized a string of new hilltops.
The Observatory says the fighting around Quneitra has killed some 70 loyalists and dozens of rebels since the end of August.
For many months, rebels have sought to take full control of southern Damascus, Daraa province on the Jordan border, and Quneitra.
Elsewhere, regime warplanes carried out fresh strikes against areas under Islamic State (IS) control in the eastern province of Deir Ezzor and the northern province of Raqa.
The air strike on Raqa killed two children, said the Observatory, while the raids on two areas in Deir Ezzor killed at least 12 civilians, among them seven members of a tribe that had fought the IS.
The strikes come amid a stepped-up campaign by Assad's regime targeting IS positions in northern and eastern Syria.
Activists say such air raids often kill many civilians as well as jihadists.
The Britain-based monitor and activists meanwhile reported several shells launched from rebel positions onto Abbasiyeen Square and other areas of central Damascus.
The shelling comes three weeks into a major battle in the eastern Damascus district of Jobar, which the regime is trying to wrest from rebel control.
On Sunday, the air force carried out 10 air strikes against rebel positions east of Damascus, the Observatory said, reporting no casualties.
Syria's war has killed more than 191,000 people since March 2011.