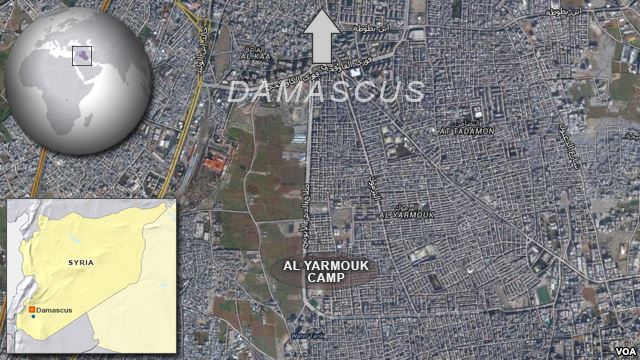 News
Syria says only 6,000 residents remain in Damascus camp
(Reuters) – Syria said on Tuesday only 6,000 residents remain in the war-battered Palestinian camp Yarmouk on the edge of Damascus that has seen intensified fighting since Islamic State launched an offensive to seize it from rival insurgents.
U.N. and Syrian officials had earlier put at 18,000 the number of inhabitants when Islamic State launched its attack earlier this month. Many have moved to areas mostly southeast of the camp.
"The number of those in the camp is less than 6,000 … and the exit of people is continuing," Information Minister Omran Zoabi told state media.
The camp was home to some 160,000 Palestinians before the Syrian conflict began in 2011, refugees from the 1948 war of Israel's founding, and their descendents.
It recaptured the world's attention this month when Islamic State moved in, worsening conditions for its residents that were already bad as it had been besieged by government forces since 2013, causing widespread hunger, according to aid workers.
Pierre Krahenbuhl, head of the U.N. agency for Palestinian refugees, UNRWA, told a press conference on Tuesday at the end of a visit to Damascus that relief work was now focused on trying to help those who had fled the camp.
"We have to adapt to realities that we found on the ground … in particular we are focusing now on helping people who are coming out, that is really the main area of our attention," he said.
U.N. Secretary General Ban Ki-moon said last week that residents faced a "double-edged sword – armed elements inside the camp, and government forces outside".
Although Syria is allowing more humanitarian access into the camp, the UN agency is pressing the authorities to allow more aid in, Krahenbuhl said.
"There was a good understanding on the side of the Syrians for more access … We will insist on more access."