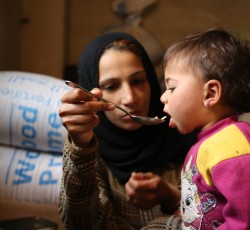 Reports & Files
Syria: UN welcomes Security Council resolution on humanitarian access
UN Humanitarian Chief Valerie Amos has welcomed a new Security Council resolution that could increase access to civilians in hard-to-reach areas by authorizing the delivery of assistance across borders and conflict lines.
"This is a breakthrough," Ms. Amos said. "The Security Council has given the UN and partners permission to use four border crossings – two from Turkey, one from Jordan and one from Iraq.
Aid groups in Syria are reaching millions of people every month. However, a growing number of people have only been reached once, and many have not been reached at all. The resolution potentially opens up new and direct routes to millions of people in need.
"If we are able to use all of [the border crossings], and if insecurity is not a problem on the other side, we could reach another additional 2.9 million people that we have not been able to reach."
"Syria is essentially a warzone"
In all, an estimated 10.8 million people in Syria are in need of humanitarian assistance, including 241,000 people who are living in besieged communities that have been cut off from aid entirely.
"Syria is essentially a warzone so insecurity is one of the biggest challenges and obstacles we face," said Ms. Amos.
"We have very difficult administrative procedures to go through with the government and of course we have a lot of people that we need to reach. That's expensive, so funding is also an issue, as well as the capacity we have on the ground. We're working with local partners but given the scale of this crisis, trying to reach 11 million people inside Syria is a huge,huge task."
www.unocha.org