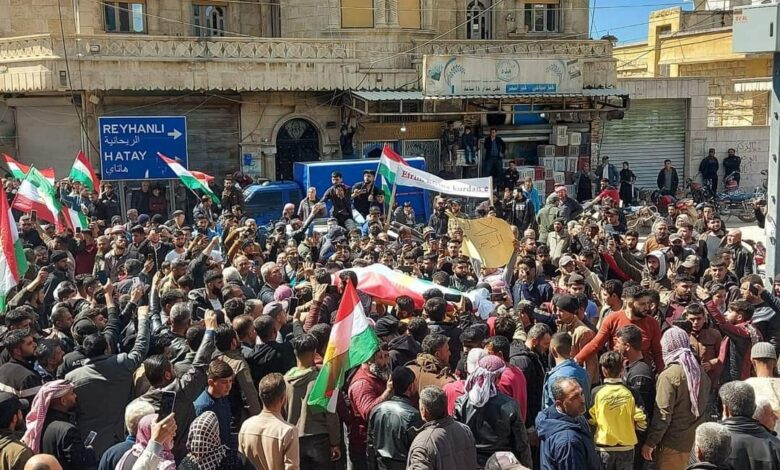 Breaking news
News
The Kurdish National Council calls for the removal of all militants from Afrin: "A cowardly and dirty terrorist crime"
Yekiti Media
On the eve of Newroz, the feast of freedom and peace, and at a time when the people of Afrin and Jenderes did not recover from the effects of the devastating earthquake that struck the region, members of the Ahrar al-Sharqiya faction shot a group of young Kurds as they lit the Newroz flame in front of their house, which led to the martyrdom of four from one family, who were
Farahuddin Othman, 43 years old
Ismail Othman, 38 years old
Muhammad Ismail Othman, 18 years old
– Muhammad Othman 42
and wounded others.
This crime reminds us of the crime committed by the regime on the night of Newroz 2008 in Qamishlo, as a result of which three martyrs were martyred.
The members of this faction committed this cowardly and filthy terrorist crime indicates not only their denial of all the values for which the Syrians went out and made great sacrifices, but they also acted against them.
The Kurdish National Council, while strongly condemning this terrorist and heinous crime, calls on the National Coalition to take an explicit and declared position to condemn the crime, as well as from this faction and all those who disrespect people's lives and insult the grave violations, and demands that the perpetrators be brought to an impartial international tribunal and not to delay this, as it calls on Turkey as the actual authority there, it is necessary to take a stand in condemning this terrorist act and holding its perpetrators accountable, who persisted in these acts, for not taking deterrent stances against them in their previous violations, and expelling the armed factions from the cities, towns, and populated areas of Afrin and its towns and villages.
The Council also appeals to the international community and humanitarian organizations to condemn this massacre, classify this faction as terrorism, and hold them accountable.
Ignoring this puts the Kurdish National Council before its responsibilities to take a position that serves the cause of the Kurdish people and the cause of freedom and dignity in Syria and the injustice, oppression, and heinous violations that its people and the people of Afrin are exposed to.
Glory and eternity to the martyrs of Newroz in Jenderes
Shame and disgrace to the killers and hired workers
March 20, 2023
General Secretariat of the Kurdish National Council in Syria