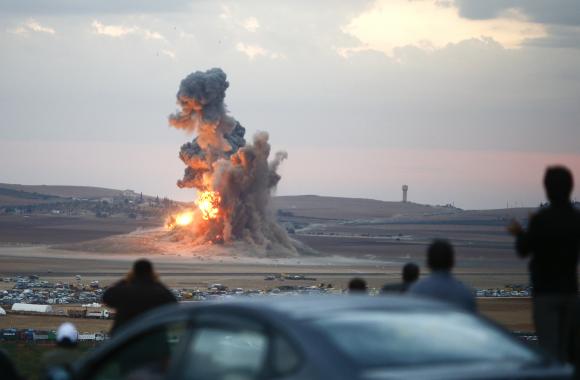 News
U.S.-led air strikes have hit 3,222 Islamic State targets: Pentagon
(Reuters) – U.S.-led air strikes against Islamic State militants inIraq and Syria have damaged or destroyed 3,222 targets since August, including 58 tanks, 184 Humvees, 673 fighting positions and 980 buildings or barracks, the Pentagon said on Wednesday.
Army Colonel Steve Warren, a Pentagon spokesman, said he wasn't sure how many targets had been damaged versus destroyed, "but I'm confident that the destruction level is high. Our strikes are extraordinarily accurate."
Release of the target damage list came a day after U.S. defense officials confirmed they are looking into reports of civilian casualties caused by the strikes in Iraq and Syria and are conducting a deeper investigation of two cases involving fewer than five deaths.
As of 11 p.m. on Tuesday (0400 GMT Wednesday), U.S. and coalition air forces had conducted a total of 1,676 air strikes against Islamic State militants in Iraq and Syria since Aug. 8, and had used some 4,775 munitions, a Pentagon spokeswoman said.
Warren said U.S. and coalition forces had hit 3,222 targets in the air strikes but he declined to say what percentage of Islamic State equipment was destroyed.
"In order for us to do that we would have to release to you the exact number of tanks we believe the enemy has, the exact number of Humvees we believe the enemy has," he said. "We don't want our enemy to know how much we know about them."
Countries whose forces have participated in the strikes in Iraq are: Australia, Belgium, Britain, Canada, Denmark, France and the Netherlands. Those participating in strikes inSyria are Bahrain, Jordan, Saudi Arabia and the United Arab Emirates.
The targets damaged or destroyed included:
– 58 tanks;
– 184 HMMWVs, the highly mobile multi-purpose wheeled vehicles known as Humvees;
– 26 armored personnel vehicles;
– 303 technical vehicles;
– 394 other vehicles;
– 79 artillery, anti-aircraft weapons or mortars;
– 41 staging areas;
– 11 improvised explosive device positions;
– 16 command posts;
– 92 checkpoints;
– 17 guard shacks;
– 980 other buildings or barracks;
– 673 fighting positions;
– 52 bunkers;
– 14 boats;
– 23 stockpiles;
– 259 oil infrastructure sites.
No aircraft were on the list, Warren said.
He said the Humvees were U.S. vehicles supplied to the Iraqi military and captured by militants as were some of the armored personnel vehicles. It was unclear whether any of the tanks were U.S.-made.
Warren said some vehicles had been hit while parked, while others were struck while engaged in combat. The boats were used by Islamic State to ferry supplies across the Euphrates River, he said.