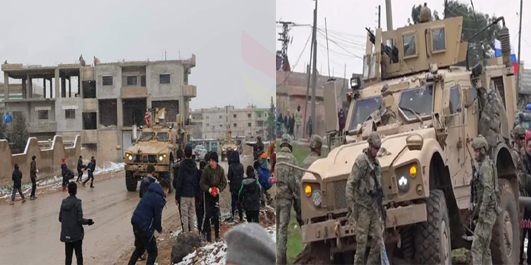 Breaking news
News
U.S. Troops Are Attacked by Pro-Assad Militias, Received with Snowballs by Kurdish Children
The US-led coalition fighting ISIS said its troops opened fire on Wednesday at a checkpoint near the city of Qamishli in northeast Syria after they came under small arms fire.
In a statement the coalition said the situation was de-escalated and the patrol returned to the base.
A Yekiti Media reporter said one person was killed in the shooting at the checkpoint and that U.S. warplanes had carried out at least one air strike subsequently. But the coalition statement made no reference to any air strike.
The reporter added that residents of the village of Khirbet Ammu, where the incident occurred, are staunch supporters of Bashar al-Assad's regime and are. He said many residents are members of the National Defense Forces, a pro-regime Arab militia.
Yekiti Media reporter pointed out that the killed man, identified as 20-year old Faisal Khaled Berri, was affiliated to the National Defense Forces.
The reporter stated that the militiamen blocked the U.S. troops from carrying out its patrol in the village. Local residents also attacked the U.S. military convoy with stones and asked them to leave the area.
Two days earlier, another U.S. convoy was received with snowballs from Kurdish children in the town of Girke Lege in northeast Syria. While an American patrol was being conducted on February 10, Kurdish children threw snowballs at U.S. military vehicles, expressing their joy for the presence of U.S. troops in Syrian Kurdistan.
( Girke Lege)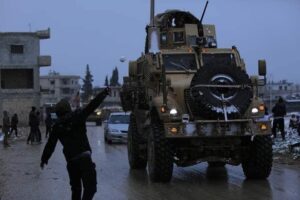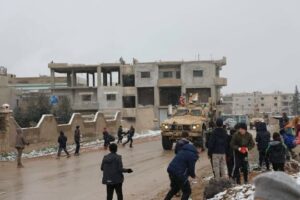 (Khirbet Ammu)