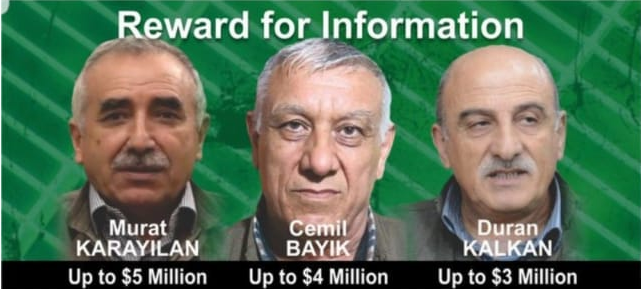 The United States announced cash rewards for information on three senior PKK leaders.
"The Department [of State] has authorized rewards for information leading to the identification or location of the senior PKK members: Murat Karayilan (up to USD $5 million), Cemil Bayik (up to USD $4 million), and Duran Kalkan (up to USD $3 million)," US Deputy Assistant Secretary of State Matthew Palmer announced in a statement published by the US embassy in Turkey on Tuesday.
Palmer made the announcement after two days of meetings in Turkey with government officials in which they "exchanged views on issues of mutual interest and concern."
"The United States values its counterterrorism cooperation with our NATO Ally Turkey," he added.
The PKK has been on the US terror list since 1997.