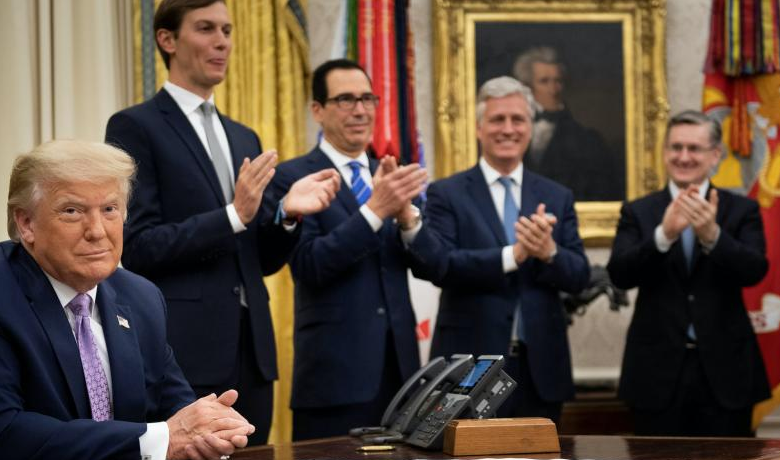 US President Donald Trump has boasted about his administration's role in the agreement between the United Arab Emirates and Israel to normalize relations.
"This is the most important diplomatic breakthrough since the Egypt-Israel peace agreement; it was signed over 40 years ago," Trump said on Thursday.
"We will not rest as we continue to work toward a world of greater harmony and prosperity for all," he told reporters during a press briefing at the White House.
He said he looked forward to hosting Abu Dhabi Crown Prince Sheikh Mohammed bin Zayed and Israeli Prime Minister Benjamin Netanyahu to formally sign the agreement.
Trump revealed that his administration is already discussing this with other nations.
"We have a lot of other interesting things going on with other nations, also having to do with peace agreements. And a lot of big news is coming over the next few weeks," he said.
"This is a monumental step to forging ties of cooperation in the Middle East. And I think you're going to have other countries come forward. I can tell you we already do, and they want to make a deal. They're going to have peace in the Middle East."
"Israel is also suspending settlements in the West Bank, which is a big deal — a bold step toward achieving peace," he added.
Trump said he thought the Palestinians will want to be a part of what his administration is doing. "I see peace between Israel and the Palestinians … I think the Palestinians will follow, quite naturally."
White House advisor Jared Kushner also confirmed to Fox News on Friday that other Arab countries are expected to sign agreements with Israel in the coming weeks.
Kushner did not name those countries.
As for US Secretary of State Mike Pompeo, he told reporters with him on a trip to central European countries that the agreement on normalizing relations reached between the UAE and Israel is an "enormous" step forward on the "right path."
aawsat