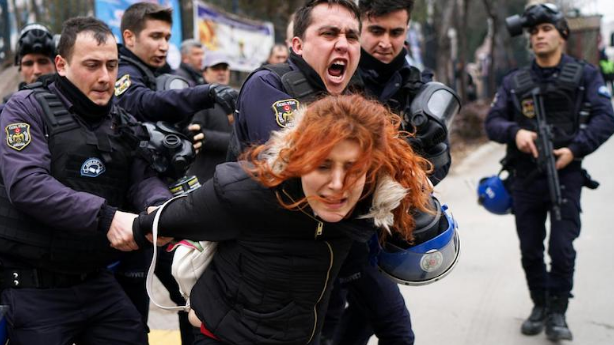 The pro-Kurdish Peoples' Democratic Party (HDP) revealed that Turkish authorities arrested 140 of their members and local politicians last week in operations across several provinces in a new wave of an ongoing crackdown.
A majority of the arrested happened between Thursday and Sunday, according to a statement by the HDP lawmaker Ayse Acar Basaran who represents the Kurdish city of Batman.
Over the weekend, the Turkish police raided her party's Batman branch and took the local Co-chairs Nizamettin Toguc, Berivan Helen Isik into custody with charges of terrorism.
In Batman, Urfa, Agri, Mus, Mardin, and the Turkish capital of Ankara, 49 members of the HDP were detained on Saturday only, the Turkish Interior Ministry's website said.
Police battered Helen Isik and three others while arresting them, Basaran wrote in an online press release.
Basaran accused the Turkish government of violating the rule of law by abusing the judiciary mechanism in the country.
The new wave of arrests hit the HDP as Turkey's President Recep Tayyip Erdogan promised to seize municipalities in Kurdish provinces once again if voters elect "those involved with terror," in a veiled reference to the HDP-backed candidates.
Currently, 94 municipalities formerly run by HDP-affiliate mayors in Kurdish population centers remain under the control of Ankara-appointed bureaucrats and not the elected mayors who the Erdogan administration purged with removals from office and jailing in a process that began in 2016.
Upcoming local elections are set to be held in March 2019.
Despite being Turkey's second-largest opposition bloc at the Parliament, Erdogan regularly describes HDP and its members as "terror collaborators," as a large part of the party's base also sympathize with the banned Kurdistan Workers' Party (PKK) fighting Turkish government forces.