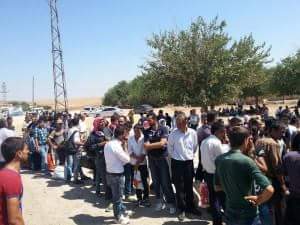 Breaking news
News
Kurdish Families : Turkish Authorities Prevent us to return to Kobani across Murshid Pianar Crossing
Yekiti Media – Kobani
Turkish authorities prevented the Syrian families that want to return to Kobani city across Murshid Pianar crossing on Monday, April 25th,2016.
The Turkish authorities decision of closing the crossing was the reason behind banning people to come back home according to the families stuck on the border from the Turkish side at the border gate.
The same source explained to our reporter that the border authorities gave permission to some persons to pass . However , they prevented the families to get into their city , Kobani.
Yekiti reporter pointed that most stuck people were forced to stay in the crossing yard or going to Sirouj city until the crossing authorities gave them permission to pass.