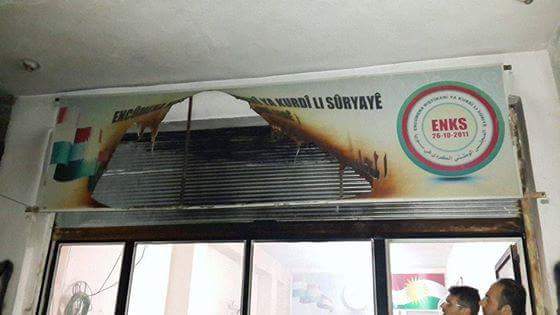 Breaking news
News
Masked persons tried to burn the local office of the Krdish National Council (KNC) in Girke-lagay
Yekiti Media
Two young masked men tried to burn down the local office of the Kurdish National Council in Girkelagay – a town in Al Hassaka province in North Syria – on Sunday 04/24/2016
Two witnesses confirmed to Yekiti Media reporter that the two young masked men sprinkled gasoline on the board of the local office of KNC, adding they poured the same substance under its main door and set fire .
The same source said that the fire crept into the office , but the intervention of the neighbors prevented the office to be burned completely.
It is worth to mention that this is the second attempt to burn the local office of the Kurdish National Council in Girke-lagay. The damages this time were not so large; only some furnitures with the office's name board.