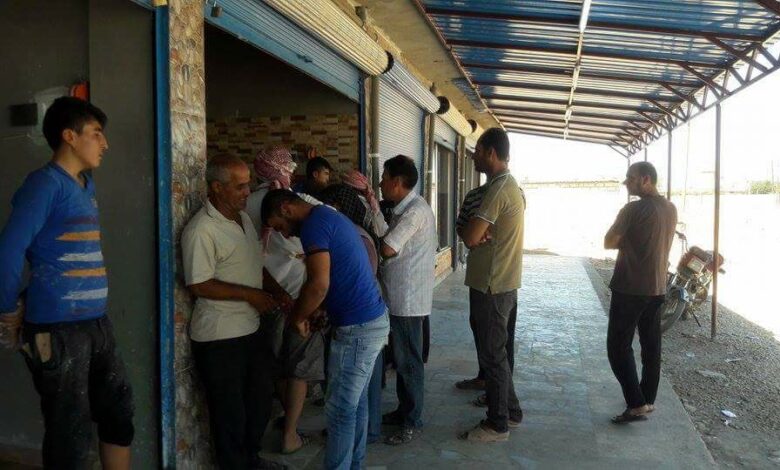 Breaking news
Reports & Files
Amude's bakeries without flour a week ago, the Kurdish council holds the Syrian regime and the acting authority devising a new dislodgment methods
Yekiti Media-Amude
public flour mills company, which follow the Ministry of Supply of Syrian regime government broke off support price flour on the stone bakeries in a Amude a week ago, would not explain the reasons.
Feisel Alqadiry owner of a bakery in Amude city brought to light to Yeketi Media that: Al-Jazirea mill in Qamishlo city, which belong to the public Mills Company, which was imported flour to them by its delegate discontinued the supplying week ago.
Alqadiry added, saying "the delegate told them that: the Al-Jazirea mill administration had told him that there is no flour in the mill with the knowledge it supplies to the automatic bakeries but they did not explain his reasons for discontinued it of stone bakeries."
The same bakery onwer explained that the bakeries' owners started buying flour from private mills and sold per flour bag for 6750 SP,therefore the owners in their turn sell per loaf for 50 SP, which aroused the ire of citizens as a result of not being able to purchase bread in these high prices .
For its part Amude local office of the Kurdish National Council in Syria issued a statement that described the regime and the Movement for Democratic Society (TEV- DEM),who are the recipient of acting authority displacement devising dislodgment methods to be applied on Kurdish people.
Amude local office of the Kurdish National Council in Syria told in a statement, "despite the harsh living, we surprised today to cut off the flour in a provocative step and to the extent of use of a starvation weapon against the Kurdish people in a desperate attempt to dissuade them from Kurdish values and principles that fighting for despite the lack of electricity, lack of water and that means the displacement and dislodgment of who stayed on home ground. "
The Amude local office condemned and denounced those inhuman practices, which aims to fight the simplest and lowest limits of living.