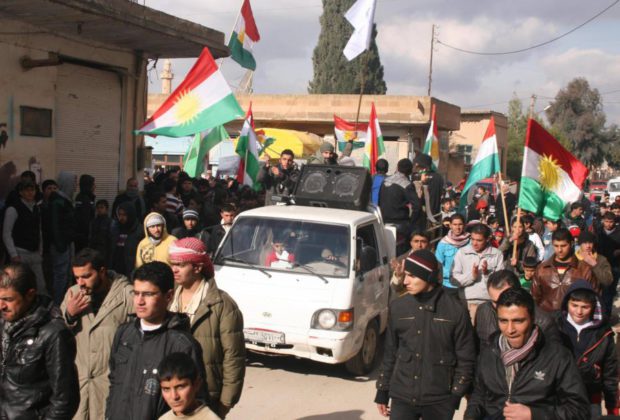 AMUDE – The Turkish government was angered by photo exhibition in the European Parliament taking place this week until 15 July, showing pictures from the private collection of the Austrian political scientist Thomas Schmidinger who has travelled to northern Syria, also known as Rojava. "Not a single Turkish journalist contacted me and asked me for a statement about the exhibition. And I think most of the journalists who wrote about it did not even see it," Schmidinger told ARA News.
Ibrahim Kalin, spokesman for Turkish President Recep Tayyip Erdogan, said on Tuesday the display served as a propaganda tool for the Democratic Union Party (PYD)–that is considered by Turkey as a Syrian affiliation of the Kurdistan Workers' Party (PKK).
"It is unacceptable to make propaganda — under the roof of European Parliament — about a terror group which targets Turkish citizens every day," Kalin told Anadolu Agency.
However, Schmidinger, who is a political Scientist at the University of Vienna and secretary general of the Austrian Association for Kurdish Studies, denies that the photo exhibit makes propaganda for one Syrian Kurdish party, saying it also shows a demonstration of the Kurdish National Council (KNC)–which is the main political rival of the PYD on the ground.
"The exhibition shows the recent history of Rojava in 30 pictures. They show different political forces, religious and ethnic minorities, IDPs and everyday life in villages and towns of all three cantons in Rojava [Cezire, Kobane and Afrin]," he said. "I tried to show as much different aspects of Rojava as possible," he added.
"I show two pictures of demonstrations in 2013. One is a demonstration of the KNC and another depicting a demonstration of the PYD. Of course Turkish media completely ignores the picture of the KNC and only focuses on the picture of the PYD. I show meeting of the women congress of the PYD and a party meeting of the Yekiti party [a KNC member]," he told ARA News.
"And again, Turkish media only wants to see the women congress of the PYD. I show pictures of [Kurdish] YPJ female fighters, but also of a [Assyrian] Sutoro policeman. Turkish media only wants to see the YPJ," he added.
Kalin suggested the exhibition was hosted because the PYD is fighting ISIS in Syria, and in that case he advised the EU to open exhibitions on Nusra, Hezbollah, and Assad too.
But Schmidinger told ARA News that the exhibition does not focus on the fight against ISIS. "My intention was to show the general political situation in Rojava. The focus is much more on IDPs than on the fight against ISIS," he said. The exhibition even showed one picture of an Assad statue with a Syrian flag in Qamishli city.
"The most surprising thing is that even an established academic like İbrahim Kalın is repeating the same lies and endangers his academic reputation this way," Schmidinger concluded.
Reporting by: Wladimir van Wilgenburg
Source: ARA News