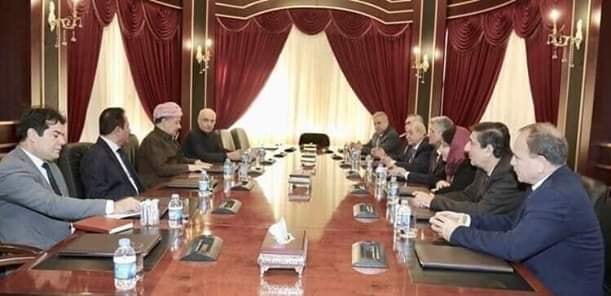 Yekiti Media
The president Masoud Barzani meet today on Thursday in Arbil a delegation from the Kurdish national council in Syria included members of the presidency and foreign relations committee.
Barzani talked to the council delegation about the political situations in the area especially those about Syrian situation in general and the Kurdish situation in special and about what are exposed to Kurdish area to real dangerous.
Barzani expressed  to the council delegation his interest about the Kurdish people suffering in Syria stressing on continue more efforts to decrease dangerous.
And he expressed his relief for the council's role in the political process stressing on the importance of strengthening relationships between the components.
The council delegation explained to Barzani his vision and his role in the negotiations body and the commenting which it is doing with the states concerned and as the delegation explained Afrin's suffering and the anxious situation which the Kurdish lived it in the areas of East of Euphrates.