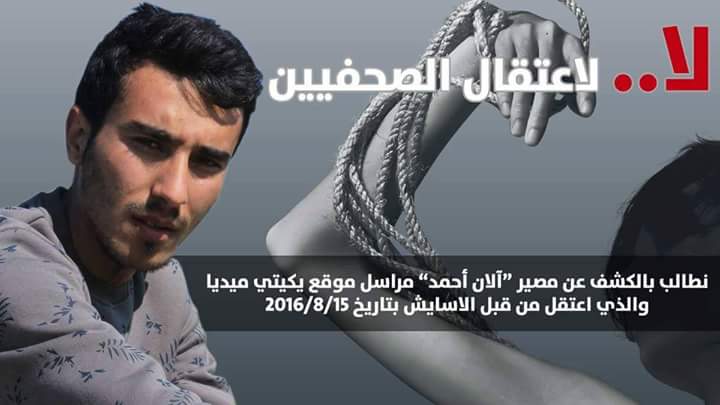 Breaking news
Data
News
Chirkien prison's administration denies existence of Yekiti Media correspondent at the jail, and concerns about his fate
Yekiti Media
Chirkien prison's Administration, which follow to Democratic Union Party (PYD) existence of Yekiti Media reporter Alan Ahmad in the prison.
This came after PYD allowed to the families of the politicians detainees to visit them, when Alan's family – who went to visit him, accompanied by relatives of the anothers detainees – surprised that their son is not in the prison, and the prison's administration does not know where he is, This was confirmed by Mr. Mohammad Moustafa ( Alan's uncle and a member of the Political Committee of Kurdish Yekiti Party ), the Administration also denied the existence of the detainee Omar Saleh Jameel.
The correspondent of Yekiti Media was arrested in Qamishlo city on 15.08.2016, with several of Kurdish Yekiti Party's leaders and members, including Mr. Hassan Saleh deputy secretary of the party, who was released later and Abdullah Geddo, Central Committee member the Party and Farhan Hassan when they were returning from the funeral of Peshmerga martyr Habib Qadri.
Alan Ahmed was deferred by the Democratic Union Party authorities of being a student in Faculty of Law and he had a decoment of so-called "duty of self-defense," – he was postponed whereby that decoment the full year – which is declared by PYD self-management.