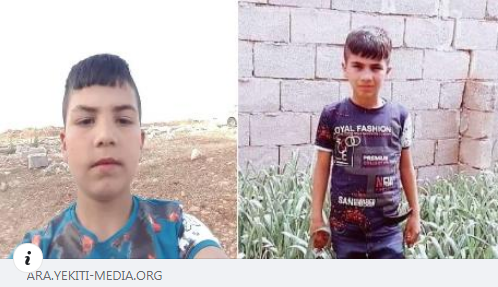 Yekiti Media
At the beginning of June the PKK-affiliated Ciwanên Şoreşger organization kidnapped a minor boys from Sheikh Maqsoud neighborhood in Aleppo city.
A local source told Yekiti Media, "The Revolutionary Youth Organization of the Kurdistan Workers' Party has kidnapped the boy  Muhammad Yusif Shoqe 9 years old, And his brother Ibrahim Yusif Shoqe 10 years old.
The source also explained: that they kidnapped after their return from sewing workshop in Sheikh Maqsoud neighborhood in Aleppo city.
The two brothers, Muhammad and Ibrahim, are from the town of Jindires in the countryside of Afrin.
The commander of the Syrian Democratic Forces, Mazloum Abdi, had signed, in 2019, with the United Nations representative for children and armed conflict, Virginia Gamba, a plan of commitment to end and prevent the recruitment of children under the age of 18 and their non-use in military actions.