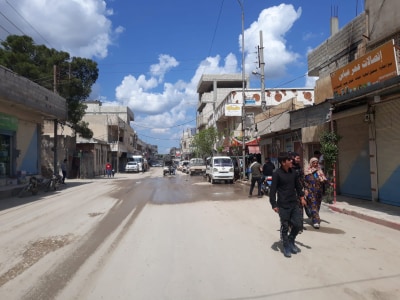 Breaking news
News
Difficult conditions for citizens with the continuation of the ban due to coronavirus
The Kurdish region of Syria lives on the impact of the ban imposed by the authority of the Democratic Union Party because of fears of an outbreak of the coronavirus, and citizens suffer from a significant increase in the prices of food and vegetables.
The economic movement in the markets has stopped, according to Yekiti Media reporters, and it is limited to emergency situations and the sale of food for limited hours.
Prices increased significantly as the price of edible oil packaging increased 4 liters to 5200 Syrian pounds, tea sugar to 800 pounds, rice to 1,800 pounds, and tea to 8,000 pounds.
The prices of vegetables increased as follows, tomatoes 800 pounds, cucumbers 700 pounds, lemons 2000 pounds, onions 1000 pounds, potatoes 700 pounds.
It is noteworthy that the price of the Syrian pound is very low against the US dollar, and the exchange rate recorded 1250 Syrian pounds
With the movement in the markets stalled and citizens' jobs disrupted, according to Yekiti Media reporters, life has become difficult because of the high prices, and people with low incomes suffer from harsh conditions.
It should be noted that the administration of the Democratic Union Party has not yet undertaken any initiative that would reduce pressure on citizens, nor has it controlled prices, amid widespread corruption in the markets, while people with low incomes fear that the embargo will continue due  the coronavirus.