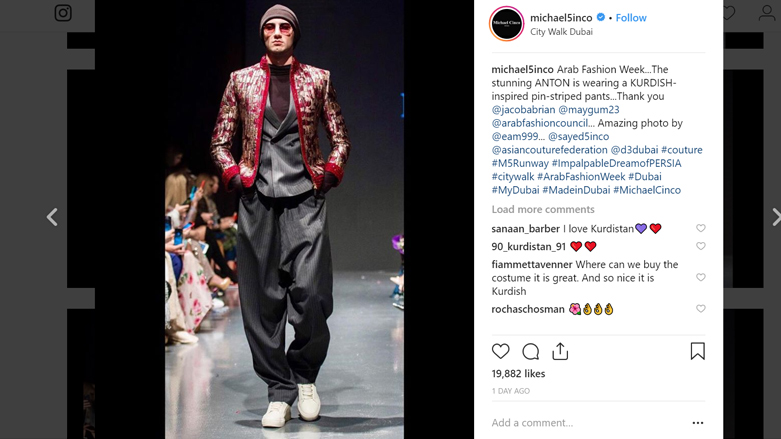 Yekiti Media
Dubai-based Filipino fashion designer Michael Cinco apologized to Kurds after he posted photos of his latest collection on his popular Instagram profile, with over 1 million followers, calling Kurdish clothes 'Persian.'
"I apologize if I have offended you and thank you for your concern. I really appreciate that, thank you," he wrote on Sunday in a message to Dutch-Kurdish filmmaker Beri Shalmashi, who pressured him to change his post.
Earlier on Saturday, he called his new clothing design a 'dream of Persia,' although, for many, the line was clearly drawing from traditional Kurdish garment.
"When I saw Michael Cinco's design on Instagram – where over a million people follow his work – it was beautiful to see an outfit completely compiled of elements that I know from very old school, yet continuously worn, typical Kurdish pieces: the kawa (coat), the sharwal (pants), even the choice of white shoes hinting to the handmade kalash you see in Kurdistan's Hawraman area," Shalmashi told Kurdistan 24.
"To Kurds, this is what hard working people wear, people who take pride in their traditional attire. In the context of Iran, it's the pants, especially in these greyish color, too, you see on photos of executed men, it makes a statement, that it's often Kurds that are hung," she added.
"It's what my mom and her friends wore in the 80s in their activism against the Islamic regime. It's what traditional peshmerga wear. It's what many who take pride in our history wear. It's the pants the kolbars wear, the couriers who carry goods on their back, between Iran and Iraq, trying to make a living, while they get shot by Iranian guards, guards from the country they are citizens of," she explained.
However, after deleting the post, he acknowledged his fashion design was 'Kurdish-inspired.'
"Even in this time and age, we, as Kurds, struggle to preserve our identity in arts and culture, it's what comes with the baggage of a stateless nation and not always acknowledging the value of our own, often oppressed, background," Shalmashi said.
"(…) he designed this in the context of a 'Persia'-inspired show and made the typical mistake of using Persia where referring to all nations and identities within Iran," she added.
"It breaks my heart when other nations, and other ethnicities, are often looked down upon for maintaining their own identity within the current state of Iran. While Iran as a country is rich because of its diversity and Kurds, for example, play a big role in its art, film and musical scene."
"It hurts to see an outfit that we as Kurds take pride in, but that is often looked down upon, sometimes ridiculed amongst Persians, being labeled as theirs when it's reinvented as high fashion. By doing so, on purpose or by accident, one contributes to the cultural disappearance of an identity that is already struggling to exist," she lamented.
But it seems Kurdish anger on social media changed the mind of the Dubai-based fashion designer.
"I am proud so many Kurds on social media followed my example and made Michael Cinco rethink his reference and reposting this and another outfit as 'Kurdish.' I think he did the only thing that was right to do and I believe it shows the power we as individuals have when reclaiming what belongs to our heritage," the Dutch-Kurd noted.
"It might seem a small statement, but to us Kurds, it is significant. We have to stay alert in order to preserve what is ours and what symbolizes our existence. And if we take pride in our heritage, many of the young Kurds in Iran would rather state they are Kurdish than consciously trying to vanish into the 'Persian' spheres," she concluded.
K524