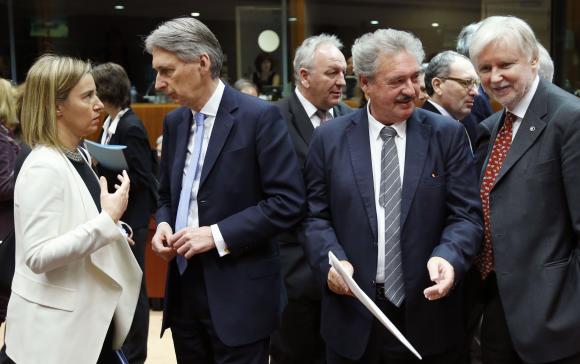 (Reuters) – The European Union and France denied any change in Western policy on Syria on Monday after U.S. Secretary of State John Kerry said the United States would have to negotiate with Syrian President Bashar al-Assad for a political transition there.
French Foreign Minister Laurent Fabius said Kerry had assured him Washington had not altered its stand on Syria and he made clear Paris believed Assad should not stay in power.
EU foreign policy chief Federica Mogherini said a lasting solution to the Syrian conflict could be achieved only through "a Syrian-led political process leading to a transition".
That meant also talking to representatives of the Assad regime, she told a news conference after EU foreign ministers met in Brussels. "I guess Secretary Kerry's position was in this sense … I don't think he was referring to Assad himself but rather the regime."
Fabius said the French position on Syrian was unchanged.
"The solution is a political transition (which) must both preserve regime institutions – not Mr Bashar al-Assad – … and include the opposition, of course. That is the direction we are working in. It is the only realistic solution," he said.
Any solution that put Assad "back in the saddle" would be an "absolutely scandalous, gigantic present" to Islamic State militants because, if that were to happen, millions of Syrians who had been persecuted by Assad would switch their support to Islamic State, he said.
EU foreign ministers issued a statement saying the Assad government could not be a partner in the fight against Islamic State, which has seized parts of Syria and Iraq.
In a CBS interview, Kerry did not repeat the standard U.S. line that Assad had lost all legitimacy and had to go. Syria's civil war is now into its fifth year, with hundreds of thousands killed and millions of Syrians displaced.
"We have to negotiate in the end," Kerry said when asked whether the United States would be willing to negotiate with Assad.
But State Department spokeswoman Marie Harf said later that Kerry was not specifically referring to Assad. She reiterated that Washington would never negotiate with the Syrian leader.