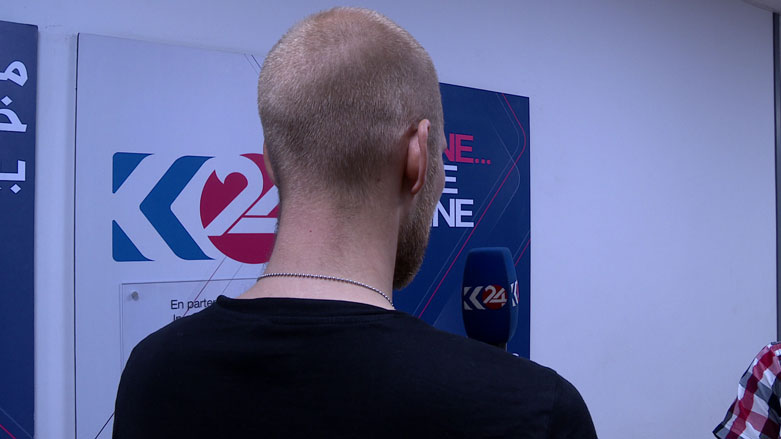 News
EXCLUSIVE: German YPG fighter says foreign fighters leaving Rojava
ERBIL, Kurdistan Region (Kurdistan24) – A German foreign fighter who fought the Islamic State (IS) hand in hand with the People's Protection Units (YPG) in Syrian Kurdistan (Rojava) spoke to Kurdistan24 about the current situation in the region.
Max is the preferred nickname for the German YPG fighter who refused to mention his real name in the report for security reasons. Max fought IS in Rojava for a year.
In an exclusive interview, he explained that he joined the YPG in Spring of 2015 and left the group in July 2016.
The German fighter stated that the Manbij offensive was the toughest combat with IS since the liberation of the Kurdish city of Kobani.
He mentioned that IS snipers and improvised explosive devices (IEDs) in Manbij had killed many foreign fighters.
Max received military training from YPG for two weeks before entering the battlefield. "The training was war tactics and the use of the simple weapons they had," he explained.
He stated that the US supports the YPG and Syrian Democratic Forces (SDF), but refuted the rumors of Russian support for the group.
The German YPG fighter said he had not seen any Russian support or weapons while battling.
Additionally, Max noted that there were over 150 foreign fighters among the YPG and SDF.
"The foreign fighters are mostly young. Now, there are very few foreign fighters left among the Kurdish-led forces," he said.
He explained that a lack of combat on the battlefields and the lack of weapons are some reasons foreign fighters have left.
Additionally, Max said that a shortage of food and poor living conditions incomparable to life in their homelands led many foreign fighters to leave.
"Most of the foreign fighters are from North America and Europe," he emphasized.
Max noted that it is not the Kurdish forces that prevent media coverage of the battlefield but rather the international coalition. He explained it was because they do not want to show foreign fighters who die in the area.
Moreover, Max pointed out that when there was no combat, he would train people to help them stay alive in the battlefields.
"There are not enough medical supplies in Rojava, and the wounded people simply die," he told Kurdistan24.
Regarding the lack of foreign fighters among Peshmerga in the Kurdistan Region, he believes that when the Mosul offensive begins, foreign fighters may join.
"Peshmerga does not want any foreign fighters on their front lines because they don't want them to die there," the German said.
"It can be due to the pressure of the foreign consulates and representative offices in the Kurdistan Region," he added.
Now, Max is going back to Germany and told Kurdistan24, "I won't go back to Rojava, I have fought enough."
Editing by Karzan Sulaivany
kurdistan24.net