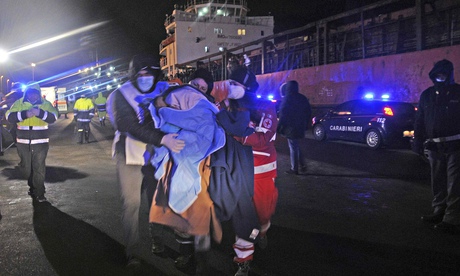 Greece sent emergency services to the Blue Sky M, carrying 900 migrants, after alarm call near Corfu coast
Four migrants were found dead on a cargo ship which was taken to Italy after apparently being abandoned by its crew in Greek waters, the Italian Red Cross said on Wednesday.
The Blue Sky M was carrying an estimated 900 migrants when it was spotted drifting near the coast of Corfu on Tuesday.
Greece sent its navy and coastguard with a military helicopter to the scene in response to an alarm call and Italian coast guard officials later boarded to check if the ship could navigate properly.
Most of the people on board were Syrian, Red Cross spokeswoman Mimma Antonagi told Reuters from the province of Lecce where the migrants arrived.
The exact number of people on board is still not known, Antonagi said. Italian authorities had originally thought there were 600-700 passengers by the time the ship reached in the small port city of Gallipoli, the estimated number had risen.
The dead have been taken to a hospital and survivors to public buildings where an identification process is under way. They are believed to be illegal immigrants.
Greek state television reported on Tuesday that the alarm was raised because armed men were on board, but the defence and shipping ministries did not confirm this.
Civil war in Syria and anarchy in Libya have swelled the number of people crossing the Mediterranean in rickety boats this year, often bound for Italy and Greece.
The United Nations refugee agency said 160,000 seaborne migrants arrived in Italy by November 2014 and a further 40,000 in Greece. Thousands more have died attempting the journey.
The Guardian