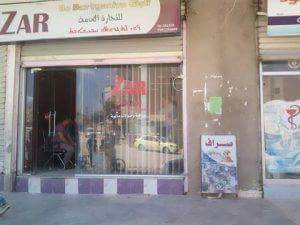 Yekiti – Media
The living conditions in Hasaka province are deteriorating because of the dramatic rising of the dollar in front of the Syrian currency, and this led to the price rising of  food and other materials which reflected directly on the markets and paralyzing purchasing movement.
A business man said to Yekiti Media reporter that the dollar rising in front of the Syrian pound make all the businessmen get worried and think to asset their money in the banks and this will lead to stop the economic motion in the field of exchange .
An employee in a Syrian  government department said " the employee's salary who has a service about 20 years is about $ 50 .. " He added " the employee who has more than one child can't live in Syria ; the employee's salary must be about 200,000 Syrian pounds to be able to live well . "
Another food merchant said " the prices of  all the materials rose about 500%  because of losing the Syrian pound its value in front of the dollar. On the other hand , closing Mabrouka road by PYD and imposing taxes on van drivers by the Assad regime , the PYD and the ISIS are also the reasons  of the material price rising.".
It is important to mention that the fruit and vegetable vans are stopped at the PYD checkpoints in Hasaka province for a long time which leads to decaying them , and this makes the merchants control the prices .