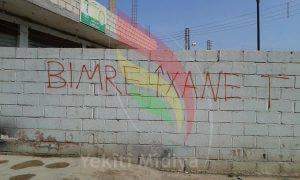 Breaking news
News
PYD Supporters Confiscated the Sign of the Local Kurdish National Council in Derbassiya City in North Syria
Yekiti Media
PYD supporters got the sign board  of the Local Kurdish National Council in Derbssiya city which is called  the Martyr Giwan Gotna Council off and confiscated it at midnight on Wednesday , May 4th, 2016.
Yekiti Media reporter added that the same force got all the Kurdish National flags off the houses' roofs .
It is important to mention that Derbassiya city witnessed other similiar actions like attaching and insulting the President Masoud Al Barazani and the leaders of the Kurdish National Council in Syria by the PYD supporters , tearing flags and bothering activists .