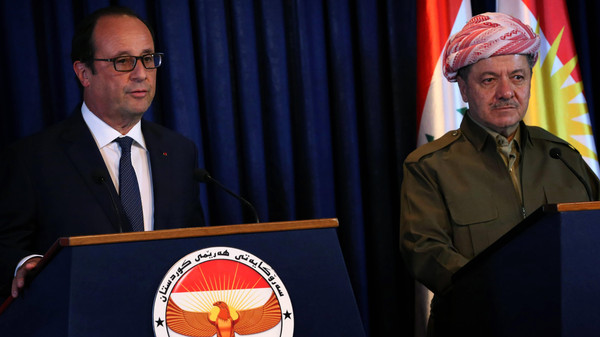 President Francois Hollande said on Friday that French arms supply to the Kurdish government was "decisive" in the fight against the Islamic State of Iraq and Syria (ISIS)
"I have decided to dispatch the necessary means and you have made the best use of it," Hollande said in the Kurdish region, adding that this had been "decisive in reversing the balance of power."
Speaking alongside Kurdish president Massud Barzani, the French President also pledged to take in some refugees fleeing the country temporarily.
"We will continue to follow with Europe our aid for the refugees," he said.
"We will set up a veritable humanitarian bridge and we will also treat the cases of families facing extreme situations who have links with France and who want to shelter with their relatives for the time-being," he said.
Earlier, Hollande held closed door talks with Iraqi leaders in Baghdad on humanitarian aid and military support for Iraq's fight against ISIS insurgents, ahead of a Paris meeting on Monday of opponents of the militant group.
Iraqi Prime Minister Haider al-Abadi, after meeting Hollande, said the French president "has promised me today France will participate in this effort striking the positions of terrorists in Iraq," according to Reuters.
Abadi added: "The American side has begun doing that. We need this air cover. We do not need partners on the ground and they don't intend to send forces."
Hollande did not address how France would contribute to the air strikes targeting Islamic State positions in Iraq, now being conducted by the U.S. airforce and Iraqi military.
Instead, he said that Monday's conference in Paris was intended to coordinate military aid to Baghdad from Iraq's
allies. "We are going to work with our allies. We know the seriousness of the threat," Hollande told reporters.
Hollande's trip was the highest-profile visit to Iraq since ISIS-led militants overran large parts of the country in June and sparked international concern over an expanding jihadist threat.
[With AFP]
alarabiya.net