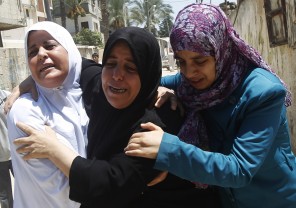 GAZA CITY — Israel targeted the home of the top Hamas leader in the Gaza Strip on Tuesday in some of the heaviest bombardments of the ongoing conflict after Prime Minister Benjamin Netanyahu warned his country that the mission would be longer and bloodier than previously thought, dashing hopes for a cease-fire despite intense international efforts.
Israel hit a fuel tank at Gaza's only electricity plant early Tuesday, forcing it to shut down, according to Palestinian officials. The attack threatened to cut off power to the more than 1.8 million residents of Gaza, who were getting electricity only a few hours a day.
Gaza Health Ministry officials said the Israeli attacks overnight and during the day Tuesday killed as many as 100 Palestinians, pushing the death tollon the Palestinian side well past 1,100, about 70 percent of them civilians.
Expanding its list of targets, Israel destroyed the family home of Ismail Haniyeh, the top leader of the Islamist militant group that controls Gaza. Other airstrikes hit Hamas's al-Aqsa TV broadcast center, a finance building and the homes of local mayors. Haniyeh is in hiding, his whereabouts unknown, but he has made prerecorded addresses on television.
Along the coast of the tiny seaside enclave, Israel also hit a fishermen's harbor, shaking hotels where scores of international journalists are staying. And airstrikes hit the Rafah area, near Gaza's border with Egypt, according to local news reports.
Israel said Tuesday afternoon that its forces had come under attack from militants in Gaza emerging from a concealed tunnel. A gun battle followed, though no details were immediately available. The Israeli military reported a similar infiltration Monday evening, saying five soldiers were killed in a battle with militants from Gaza who entered southern Israel via a tunnel. A gunfight broke out, leaving at least one militant dead.
The deaths of the five soldiers brought the number of Israeli troops killed in the three-week-old conflict to 53, the largest toll since Israel's 2006 war with Lebanon. Mortar and rocket attacks from Gaza have also killed two Israeli civilians and a Thai worker.
Multiple rocket barrages from Gaza overnight sent people scurrying to shelters in Tel Aviv, Israel's commercial capital, in the dead of night.
In the center of Gaza City, an airstrike obliterated the al-Amin Mohammed Mosque opposite the Gaza home of Palestinian Authority President Mahmoud Abbas. In 2007, when it seized control of Gaza, Hamas took over the home and used it to house senior leaders. The militants handed it back to Abbas earlier this year after Hamas and the Palestinian Authority reached an agreement on forming a unity government.
Neighbors said that the mosque was not Hamas-run and that anyone could pray there.
"This is a mosque for the public, and I am one of the public," said Muhammed Abdu, a 45-year-old engineer, as he looked at a cavernous hole filed with debris where the mosque had stood. "This is all part of a strategy to burn Gaza down."
He said the attack underscored the need for a cease-fire. But like many Gazans interviewed over the past two days, Abdu said the core Palestinian demand of lifting an economic blockade by Israel and Egypt should be met.
"To bring milk in for your child, is that a crime?" Abdu asked. "To have an open crossing so that you can leave for medical care, is that a crime? To travel outside for your business, is that a crime?"
In Nusairat camp, in the middle of the Gaza Strip, the shattered fuel tank of Gaza's primary power plant continued to emit flames and thick plumes of smoke hours after being hit by an Israeli airstrike. Much of Gaza was without electricity on Tuesday, forcing those residents with generators to search for fuel as Palestinian electricity officials sought to find a way to repair the damage to the plant.
Outside Haniyeh's wrecked house in the Beach Camp neighborhood of Gaza City, near the Mediterranean Sea, neighbors gathered Tuesday to express anger. Not far away, 10 people, including seven children, were killed in an attack Monday that Hamas and Israel blamed on each other.
Haniyeh's three-story house had collapsed like an accordion. In the tangle of concrete and metal, a green flag of the Hamas movement sagged on a bent pole, as did several Palestinian flags. A suitcase, a table, a bed frame and women's clothes lay in the rubble. After the attack, Hamas followers erected a larger Hamas flag and a picture of Haniyeh on the ruins.
Neighbors said Haniyeh and his family had not lived in the house since the conflict erupted three weeks ago. The dwelling, they said, was hit around 2 a.m., and no one was killed or injured. Israel's military, they said, phoned a neighbor at around 1:45 a.m. with instructions to tell the rest of the street's residents to evacuate.
But most fled when they heard two small missiles from an Israeli drone strike the house, presumably as a warning, residents said. Minutes later, a powerful airstrike, possibly from an Israeli F-16, brought down the house in a pinpoint strike that did little serious damage to the surrounding homes in this densely packed enclave.
Some neighbors said Tuesday that the attack made them support Hamas even more and that they would never accept a cease-fire until Palestinian demands were met.
"Israel said it wouldn't target him because he is a politician," said Wasifiyah Hassonehm 53, who lives two houses down from Haniyeh. "Now, they are targeting everyone — the politicians, the civilians, everyone."
In an e-mailed statement to journalists, Haniyeh said the attack would not deter Hamas. "Destroying our homes will not change our attitude, but it will strengthen it," he said.
Rebuffing appeals from President Obama, the United Nations and others for an immediate cease-fire, Netanyahu said Monday in a televised address, "We will not finish the mission, we will not finish the operation, without neutralizing the tunnels" through which Hamas fighters have sought to infiltrate Israel. The tunnels, he said, "have the sole purpose of destroying our citizens, killing our children."
Palestinian health officials said 18 deaths were reported in Gaza on Monday, the start of the Muslim Eid al-Fitr holiday capping the end of the fasting month of Ramadan. They said 70 people were injured.
Reporters said that a shell or rocket also crashed into a medical facility in the Shifa Hospital compound in Gaza City on Monday but that there was no serious damage and that it was unclear whether there were any deaths or injuries from that strike. Both Hamas and the Israeli military denied responsibility for the blast.
Later, Hamas militants fired three rockets into southern Israel in what they deemed a retaliatory strike.
There were signs of rising hostilities Monday evening.
Sirens sounded across southern, central and northern Israel, warning people to seek shelter from incoming Gaza rockets.
The Israeli military made cellphone calls and sent text messages to thousands of Palestinians living in the Shijaiyah, Zeitoun and Jabalya neighborhoods, warning them to evacuate immediately and head for Gaza City. Similar mass messages have preceded large strikes and incursions by Israel recently.
"If the terrorist organizations in Gaza think they can break Israel and its citizens, they will come to understand in the next few days that this is not the case," said Israeli Defense Minister Moshe Yaalon.
In an emergency meeting that stretched into early Monday, the U.N. Security Council urged Israel and Hamas to "accept and fully implement the humanitarian cease-fire into the Eid period and beyond," allowing for the delivery of urgently needed assistance to Palestinians, who cannot leave the territory.
Netanyahu heaped scorn on the U.N. statement, saying it focused on "the needs of a murderous terrorist organization that is attacking Israeli civilians and does not address Israel's security needs, including the demilitarization of the Gaza Strip."
In Washington on Monday, U.S. officials confirmed that Israeli authorities had detained a 15-year-old American citizen for allegedly taking part in violent protests in East Jerusalem this month. State Department spokeswoman Jen Psaki said the U.S. government was urging a quick resolution of the case of Mohamed Abu Nie, arrested July 3. Israeli officials alleged that he had a knife and threw rocks and attacked police during a protest, Psaki said. She added that the U.S. government was concerned about reports that he had been beaten while in custody.
Raghavan reported from Gaza. Daniela Deane in Rome contributed to this report.
www.washingtonpost.com