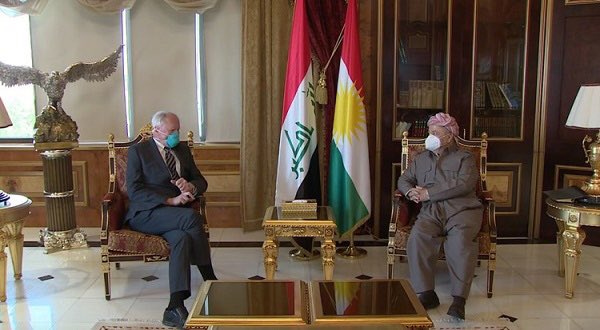 Yekiti Media
James Jeffrey, the US Envoy for Syria and the Global Coalition to Defeat ISIS, held several meetings on Tuesday with leaders of the Kurdistan region of Iraq, after holding meetings with the parties to the Kurdish dialogue in Syrian Kurdistan on Sunday.
Jeffrey met with President Masoud Barzani, KRG president Nechirvan Barzani, and KRG Prime Minister Masrour Barzani.
The media office of the KDP said on Twitter: President Masoud_Barzani received today, Ambassador James Jeffrey, Special US Presidential Envoy in Salahaddin. A number of important issues were discussed including bilateral relations, the Strategic Dialogue, the future of the Kurds in Kurdistan of Syria and the ISIS threat.
The KRI Presidency website on Twitter also issued a statement after President Nechirvan Barzani's meeting with Ambassador Jeffrey, saying: in a meeting with President Nechirvan Barzani, US Special Envoy to Syria James Jeffery reaffirms the continued support of the US and the Global Coalition to the Kurds in the fight against terror networks and the complete elimination of ISIS in Syria, the Kurdistan Region and Iraq.