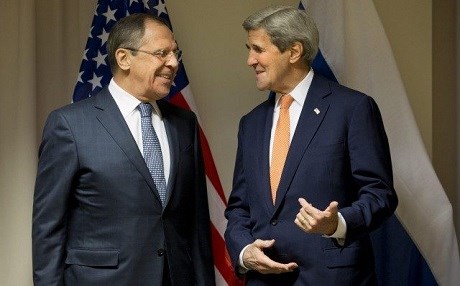 News
Kerry meets with Lavrov to finalize bilateral deal on Syria
US Secretary of State John Kerry with Russia's Foreign Minister Sergei Lavrov. Photo: AP
ERBIL, Kurdistan Region—US Secretary of State John Kerry met with Russia's Foreign Minister Sergei Lavrov in Geneva on Friday to discuss the finalization of a deal which will enable both of them to coordinate against Islamist militants in Syria. 
"There are still issues that need to be ironed out," said a senior State Department official earlier on Friday before talks began, according to Reuters. 
"We're hopeful that today could see resolution on at least some of them, and that we can move this plan forward. But we're mindful of the challenges," the official added. 
Proposed by the Obama administration the deal will see American and Russian military forces working together to enforce a ceasefire in Syria and combating, and sharing intelligence on, Islamic State (ISIS) and Jabhat al-Nusra militants. 
Also the administration believes that a deal with Russia will give them more leverage when it comes to restarting peace negotiations and bringing about a political transition in Damascus. 
The US backs Kurdish-led forces in Syria against the Islamic State (ISIS), which it supports with airstrikes and special forces since it intervened in that war back in September 2014. Russia has been backing the regime in Damascus since its intervention in September 2015. While both have a communications mechanism to avoid clashing in Syria they have not yet coordinated their respective campaigns.
Meanwhile on Friday a meeting between the chiefs of staff of both Turkey and Russia in Ankara was postponed. The two men were scheduled to meet just after Turkey launched its operation against Islamic State (ISIS) in the northwestern Syrian town of Jarablus. 
Turkey's Chief of General Staff Gen. Hulusi Akar had been set to host Gen. Valery Gersimov at Turkey's military headquarters, Anadolu news reported. It's not yet clear why the meeting was postponed. 
Russia's Foreign Ministry's initial reaction to the Jarablus operation was one of concern. "Moscow is deeply concerned about what is happening in the Syrian-Turkish border area," given the "potential losses among the civilian population and the aggravation of … antagonism between Kurds and Arabs," the foreign ministry said. 
While the operation's main aim was to oust ISIS from Jarablus the Turks also targeted Syrian Kurdish Peoples Protection Units (YPG) fighters north of Manbij with their long range artillery on Thursday. 
Ankara and Moscow began repairing ties earlier this summer after they were severely strained by the Turkish shoot-down of the Russian warplane last year.  They even agreed to coordinate their intelligence and military in the fight against ISIS and also work together to bring about a resolution to the Syrian war. 
It's not clear if Russia gave the go ahead for this Turkish operation. The regime in Damascus, however, staunchly opposed it, calling it a violation of Syria's sovereignty.
Rudaw