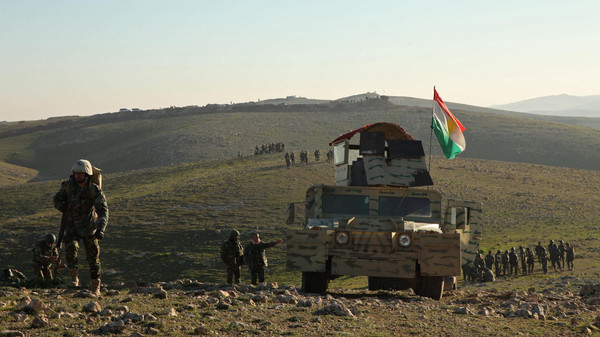 News
Kurdish forces repel major ISIS attack
Kurdish Peshmerga forces have repelled a major attack by the Islamic State of Iraq and Syria (ISIS) militant group southwest of Iraqi Kurdistan's capital Erbil, officials said Wednesday.
"The attack which was launched at 8:00 p.m. (1700 GMT on Tuesday) was foiled. It lasted four hours and we killed 34 ISIS members," Sirwan Barzani, the local Peshmerga commander, told AFP.
He said approximately 300 militants had attacked the villages of Sultan Abdallah and Tal al-Rim, between the towns of Gweyr and Makhmur, an area about 40 kilometers (25 miles) southwest of Erbil.
"Daesh [the Arabic acronym for ISIS] was not able to use heavy military vehicles or car bombs due to trenches dug out by Peshmerga on the front lines," said Barzani, also the nephew of Kurdish leader Massud Barzani.
He said the ISIS offensive achieved no gains and added that his operation received air support from the U.S.-led coalition which has carried out hundreds of strikes against ISIS since August 2014.
"The clashes are over now. We are collecting their bodies," said Najat Ali, the deputy Peshmerga commander on the Makhmur front.
Gweyr and Makhmur were among the very first targets of U.S. air strikes against the militants six months ago.
An ISIS advance had brought the militants to within striking distance of Erbil, the capital of the autonomous region of Kurdistan.
The militants have continued to attack the area nonetheless, including in a surprise offensive last month when they used boats to cross the Zab river and killed at least 26 members of the Kurdish security forces.
alarabiya.net