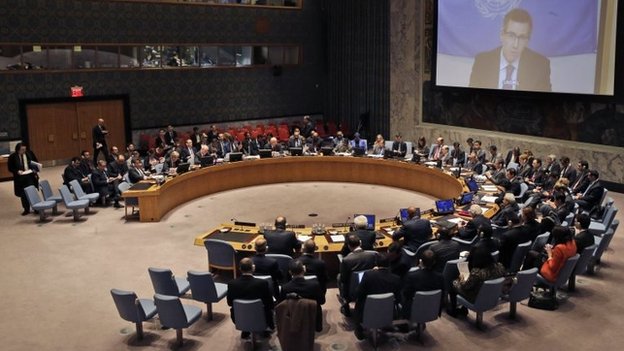 Libya has asked the UN Security Council to lift an arms embargo so that it can deal with the Islamic State (IS) group and other militants.
Foreign Minister Mohammed al-Dairi said that it would help the government build its army and deal with "rampant terrorism".
Egypt said it supported Libya's request at an emergency session of the UN council on Wednesday.
Rival militias have been battling for control in Libya since 2011.
The worsening security situation has increased fears that the country's warring militias may side with IS militants.
Mr Dairi said Libya needed a "decisive stance" from the international community to be able to tackle the threat.
"If we fail to have arms provided to us, this can only play into the hands of extremists," he said.
Libya has been under an arms embargo since the 2011 uprising that drove out the former leader, Col Muammar Gaddafi.
Egypt's Foreign Minister Sameh Shoukry said he supported the lifting of the embargo as events in Libya posed an "enormous danger".
He also called for a naval blockade on arms heading to areas of Libya that were not in the control of the internationally recognised Tobruk government.
The BBC's Nick Bryant in New York says that both Egypt and Libya seemed to have stepped back from earlier requests for a UN mandate that would allow an international force to battle IS on Libyan soil.
Our correspondent says that Western diplomats will have strong reservations about lifting the arms embargo because of fears that weapons could fall into the hands of militia groups.
Libya's rival power bases
On Monday, Egyptian forces bombed alleged IS targets in Libya after the release of a video that appeared to show IS militants beheading 21 Egyptian Coptic Christians.
The kidnapped Egyptian workers had been seized in separate incidents in January and December from the coastal town of Sirte in eastern Libya, which is under the control of Islamist groups.
Egypt's President Abdel Fattah al-Sisi has called for a UN resolution allowing international forces to intervene in Libya.
Egyptian officials have also suggested that a US-led bombing campaign against IS in Syria and Iraq could be extended to Libya.