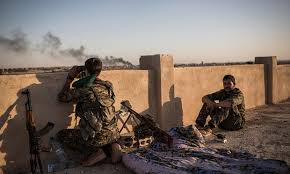 Breaking news
News
Kurdish militia claims Isis using poison gas in attacks against them
A dozen Kurdish fighters exposed to gas after 'makeshift chemical projectiles' fired at their positions in Hasakah, Syria
Islamic State used poison gas in attacks against Kurdish-controlled areas of north-east Syria in late June, a Syrian-Kurdish militia and a group monitoring the Syrian conflict have said.
The YPG militia said Isis had fired "makeshift chemical projectiles" on 28 June at a YPG-controlled area of the city of Hasakah, and at YPG positions south of the town of Tel Brak to the north-east of Hasakah.
Redur Xelil, the YPG spokesman, said on Saturday that the type of chemical used had not been definitively determined. None of the YPG fighters exposed to the gas had died because they were quickly taken to hospital, he said.
It was the first time Isis had used poison gas against the YPG, he added.
The Syrian Observatory for Human Rights, a UK-based group that reports on the war using an activist network on the ground, said it had also documented the use of poison gas by Isis in an attack on a village near Tel Brak on 28 June.
It said 12 YPG fighters had been exposed to the gas. The human rights group also said it had received information about the gas attack on Hasakah, but gave no further details.
Reports of poison gas attacks by Isis could not be independently verified by Reuters. The YPG statement said it was investigating Isis's use of chemical weapons with help from an international team of experts.
The YPG has driven Isis from wide areas of north-eastern Syria this year with the help of US-led air strikes. Areas captured from Isis include the town of Tel Abyad at the border with Turkey.
In a statement, the YPG said its forces had captured industrial-grade gas masks in the last four weeks from Isis fighters, "confirming that they are prepared and equipped for chemical warfare along this sector of the front".
It said soldiers exposed to the gas "experienced burning of the throat, eyes and nose, combined with severe headaches, muscle pain and impaired concentration and mobility".
"Prolonged exposure to the chemicals also caused vomiting," it added.
The Guardian