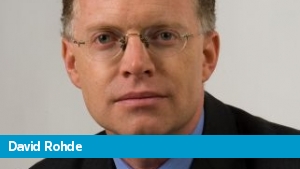 It never happened: How to deny genocide in the face of science
Srebrenica, Bosnia — Scientific advances in DNA identification over the past 15 years have helped war-crimes investigators document to an unprecedented extent the massacre of 8,000 Bosnian Muslim men and boys around this town in 1995.
Yet even as these technological advances uncovered more damning evidence, many Bosnian Serbs have grown increasingly more resolute in their denial.
Last Friday night, two Bosnian Serb men standing beside a memorial to Serb war dead were a telling example. They insisted that Serbs are the victims of an international plot. They fervently argued — despite 93 mass-grave exhumations and 6,827 DNA identifications of the dead — that the mass killings have been grossly exaggerated.
Biased historical narratives, of course, have existed throughout history. The identification of the dead in Srebrenica demonstrates the ability of technological advances to produce a flood of factual information. Yet in many cases, the scientific statistics appear to have only given those willing to manipulate the numbers more arrows in their quiver.
The two Bosnian Serbs contended that roughly the same number of victims died on each side during the 1992-1995 war. When I asked how such a vast subterfuge had been carried out, one said the answer was simple. "As far as the Muslim side," he told me, "there is a bigger lobby in America."
The following morning, interviews with a dozen other Bosnian Serbs living near Srebrenica produced similar answers. As tens of thousands of Bosnian Muslims drove past their homes to commemorate the 20th anniversary of the mass killings, Serbs dismissed the gathering and the idea of 8,000 dead as a "farce," a "circus" and "make believe."
"It's definitely not correct," said Budimir Todorovic, a 60-year-old electrician, as he calmly drank coffee with his family in his front yard as busloads of Bosnian Muslims drove by. "It's not 8,000."
Milan Rakic, a 48-year-old store owner, accused Muslims of stealing the bodies of Orthodox Christian Serbs and interring them in the town's sprawling cemetery complex.
"There are a lot of Serb bodies buried in this memorial," he said.
One elderly widow said that some Bosnian Muslims listed as dead in the Srebrenica memorial were, in fact, living in Germany. "The number is exaggerated," she said. "There are many living people whose names are engraved on the gravesites."
The woman, like the other Serbs interviewed, was genial and polite. The Serbs expressed regret about the war — the woman declared it "horrible, horrible." But they echoed the arguments of Bosnian Serb nationalists who still dominate politics here. The nationalists contend that foreign powers, primarily the United States and Britain, stage-managed everything from the war itself to the burial of bodies in Srebrenica.
They dismissed the annual commemoration as a "provocation" also organized by meddling outsiders. They said the crowds were so large because "Western NGOs" paid people to attend.
"Everything is well coordinated," one man standing at the memorial for Serb war dead told me. "No one from here is guilty for what happened."
Denial is evident outside Bosnia as well. Disparate groups, including left-leaning academics,Russian government-controlled media and some right-wing Americans who talk about a Muslim takeover, scoff at the number of 8,000 dead.
****
In fact, the annual commemoration and cemetery here have become a global symbol of the international community's failure to stop the killing in Bosnia. U.N. officials arrived in Srebrenica in 1993 and declared it a United Nations protected "safe area." When Serb forces attacked it two years later, Dutch peacekeepers and U.N. commanders did little to defend the enclave, and it fell to Serb forces on July 11, 1995. Two weeks of mass expulsions and mass executions followed.
Twenty years later, an estimated 50,000 Bosnians and several thousand foreigners attended the anniversary commemoration last weekend. Dozens of foreign dignitaries did as well, with former President Bill Clinton saying the world must prevent more such killings.
In the largest DNA identification project ever, a nonprofit group called the International Commission on Missing Persons has collected 22,268 blood samples from Srebrenica survivors and matched them to 6,827 bodies.
"Huge advances in DNA identification have made it possible," said Kathryne Bomberger, director of the project. "The science is moving rapidly."
Along with 93 mass graves that have been exhumed, investigators have found bodies at 314 "surface sites" in the surrounding mountains. Yet the work is not over. With 8,000 men reported missing from Srebrenica and the nearby town of Zepa, another 1,200 bodies are believed to be scattered in the woods or in mass graves not yet located.
Finding the dead has been vastly complicated by a grisly Bosnian Serb effort to conceal evidence. Several months after the executions, Bosnian Serb forces dug up many of the mass graves and reburied the bodies in dozens of locations. In the process, many corpses were dismembered.
Body parts from single victims have been found at multiple sites. In one case, parts of the body of one victim, 23-year-old Kadrija Music, were discovered in five different mass graves 20 miles apart.
While the DNA identification of the bodies has received widespread praise, the uneven sentencing practices of the U.N.-created International Criminal Tribunal for the former Yugoslavia has elicited scorn from both Muslims and Serbs.
Bosnian Muslims hailed decisions from the tribunal, as well as the United Nations International Court of Justice, that ruled genocide had occurred in Srebrenica. But they criticized some of the sentences as far too short.

Meanwhile, Serbs insist they have been the victims of the court. They assailed the tribunal for ultimately acquitting Naser Oric, commander of Bosnian Muslim forces in Srebrenica, though they say he is responsible for many deaths.

"How many Serbs need to be killed for people in the world to see that Serbs are people, not animals?" asked Rakic, the store owner, who said his uncle was one of Oric's victims. "Animals have rights but not the Serb people?"

International war-crimes investigators, however, say there is no proportionality in the deaths in Srebrenica or Bosnia as a whole. The say several hundred Serbs died in the fighting around Srebrenica, but the vast majority of them were Serb military forces.

Across the country, Bosnian Muslims made up 65 percent of the war dead and Serbs 23 percent, according to prosecutors. Yet Bosnian Muslims made up 44 percent of the population, according to a census conducted two years before the war. Serbs made up 31 percent.

Meanwhile, Bosnian Serb news accounts lay out a different narrative. They report that 1,300 Serb civilians died around Srebrenica, and a total of 3,267 Serbs were "murdered" across eastern Bosnia.

Dismissing the Bosnian Serbs' statements as irrelevant conspiracy theories would be easy. But their assertions had an eerie familiarity. In conversations around the world, extremist Muslims, Jews, Hindus and Buddhists, as well as some on the far right and far left of U.S. politics — have all featured similar arguments.

The stories usually involve a nefarious plot by outsiders to destroy their culture or faith, or future. They say they have had to act in self-defense. As the victims of the plot, they have no choice but to respond.

There is usually some distant, all-powerful covert force — the CIA, the Mossad, oil-rich Arab potentates — deftly stage-managing each event. Local people are helpless victims, with no responsibility for what occurs.

When I asked the Bosnian Serb men about the future of the former Yugoslavia, they said it would be decided in London and Washington. "Basically, how the English and Americans decide," one told me. "That's how it will be."

Though there had been a decade of progress in Bosnia after the 1995 peace accord ended the war, the country has been moving steadily backward over the past 10 years. Bosnian Serb denial of the Srebrenica massacre is growing. Bosnian Muslim resentment of that denial is simmering.

Violence erupted at the 20th anniversary commemoration. Groups of young Bosnian Muslim men hurled stones and slurs at Serbian Prime Minister Alexander Vucic, a wartime ultranationalist now turned pro-Western moderate, forcing him to flee.

The International Commission on Missing Persons, meanwhile, is expanding internationally and applying the DNA identification system it developed to tragedies in other parts of the world. It is identifying the missing in Iraq, Chile and South Africa, as well as victims of typhoon Haiyan in the Philippines and the passengers shot down in a Malaysian airliner over Ukraine.

Yet scientific and technological advances seem to have changed few views. One new conspiracy theory circulated by Serb nationalists is that the remains recently buried in the Srebrenica memorial are Filipinos who died in typhoon Haiyan.

Reuters

Warning: A non-numeric value encountered in /customers/b/b/b/yekiti-media.org/httpd.www/en/wp-content/themes/publisher/includes/func-review-rating.php on line 212 Warning: A non-numeric value encountered in /customers/b/b/b/yekiti-media.org/httpd.www/en/wp-content/themes/publisher/includes/func-review-rating.php on line 213