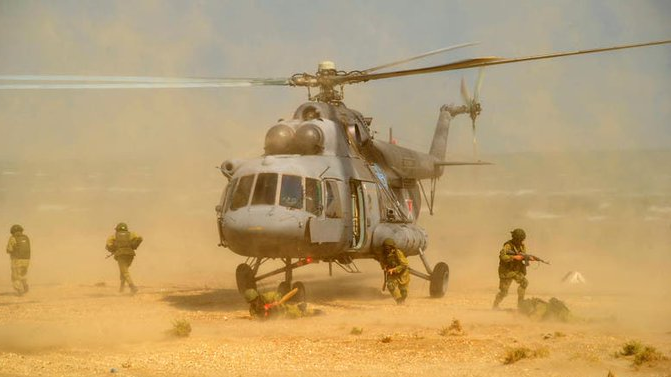 Kurdistan Syria are witnessing a rise in the number of foreign military bases, particularly after Russia made a step to inaugurate its third base there.
On Thursday, the Russian Defense Ministry's Zvezda TV channel said Russia has set up a helicopter base at an airport in  Qamishlo city of Kurdistan Syrian , a move designed to increase Moscow's control over events on the ground there.
"The first group of helicopters of Russia's Aerospace Force has redeployed from Hmeimim to the Qamishlo airport. They flew to Syria's north for about five hours," says the footage posted on the channel's website.
Early this week, Russian media said Moscow and Damascus are holding negotiations over the lease of the Qamishlo airport, where Russia plans to deploy its defense and missile defense systems to "intercept potential American strikes."
Russia currently controls the Hmeimim airbase and a naval facility in Tartus, which it has leased for 49 years and plans to turn into a bona-fide naval base.
At the same time, the Anadolu Agency revealed that the United States, which has five military bases in Hasaka province, has started works to establish two new bases in the area.
When completed, the US would have a total of seven military bases and points in Hasaka.