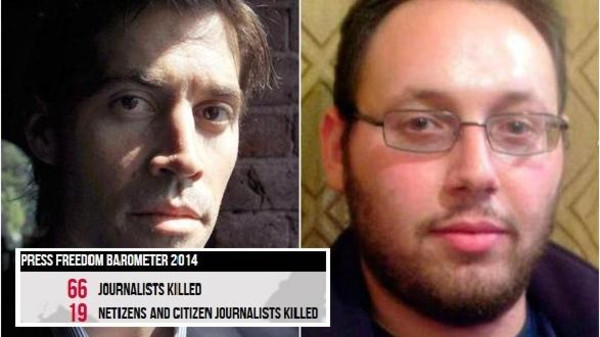 As 2014 comes to an end, international media watchdogs highlight another gloomy year for journalists in the Middle East and North Africa (MENA) region.
Armed conflicts and the fast military expansion and savagery of ISIS militants witnessed this year have guaranteed that the MENA region is once again ranked amongst the world's most dangerous regions for journalists to report from, with Syria leading the "world's deadliest countries for journalists" list for a third year in a row, according to Reporters Without Border's (RWB) annual roundup report released on Tuesday.
So far, 66 journalists were killed, 119 journalists were kidnapped and 178 journalists were imprisoned worldwide because of their line of work, and the year has not ended yet. According to the report, almost half of those killed died in Syria (15), Palestine (7), Iraq (4), and Libya (4) – making the top deadliest five countries for journalists this year in addition to Ukraine (6).
"The murders are becoming more and more barbaric and the number of abductions is growing rapidly, with those carrying them out seeking to prevent independent news coverage and deter scrutiny by the outside world," RWB said.
Just last week, three journalists from the Syrian opposition TV station Orient News were killed while on their way to cover the aftermath of clashes between President Bashar al-Assad regime forces and armed opposition forces, New-York based media lobby group, Committee to Protect Journalists (CPJ), reported. CPJ did not confirm whether they were directly targeted; but Orient News claimed they were hit by a directed missile.
"More than half the journalists killed this year were covering the Middle East and North Africa," Jason Stern, CPJ's MENA Program Researcher Associate, told Al Arabiya News. "For the third year in a row, Syria ranks as the deadliest country in the world for journalists, accounting for more than 25% of the journalists killed this year."
"It's terrible to think about, given the optimism that electrified the region and the journalists covering it only a few years ago," Stern added.
The Arab Spring, inspired by the ousting of Tunisia's Former President, Zine al-Abidine Ben Ali, nearly four years ago, took a turn for the worst and plagued much of the region with ongoing turmoil.
In Syria alone, around 130 "news providers" have been killed since the uprising against the Assad regime began in 2011, according to RWB's "World Press Freedom Index 2014."
ISIS-controlled territories
Syria's civil war has claimed the lives of around 130,000 people so far, according to the UK-based Syrian Observatory for Human Rights. But the emergence of ISIS, which currently controls one third of Syria and a third of Iraq, as a powerful third party in the complex conflicts there, turned journalists into prime targets.
The recent executions of American journalist and video reporter James Foley and American-Israeli journalist Steven Sotloff by an ISIS fighter, whom international media named "Jihadi John," emphasized the dangers of reporting from this part of the world where conflicts are marked by shifting alliances between different armed factions. Both executions were captured on video, and the increasing popularity of social media ensured that journalists across the globe got the message sent by ISIS.
Undermining two different states and marking its territories with armed violence, ISIS, which aims to establish an "Islamic Caliphate" that would wipe out the artificial regional boundaries drawn by the West in the 20th century, also gained a spot in this year's report.
RWB identified ISIS-controlled territories as one of the five most dangerous places "where journalists are killed, abducted, threatened, and harassed," said Lucie Morillon, Program Director at RWB.
"ISIS wants journalists either to not do their jobs or to relay their [ISIS] propaganda," Morillon said. "And if they don't do it, they are just eliminated because this group wants to establish a news blackhole for information."
Many journalists were forced to flee cities like Mosul, which has been an ISIS-stronghold since June 2014, in fear of reprisals. Others, such as in the Syrian province of Deir Ezzor, were forced to comply with ISIS-imposed rules, including swearing allegiance to the self-proclaimed Caliph Abu Bakr al-Baghdadi.
Failing to comply would bring about the same fate as that of Raad Azaoui's, an Iraqi cameraman working for Sama Salah Aldeen TV who was abducted then executed on Oct. 10 in the city of Samara by ISIS.
"In the past, a journalist's profession served as a kind of shield which provided a measure of protection in even the world's most dangerous places," Stern said. "But in Syria and elsewhere, we've increasingly seen journalists directly targeted."
Although the "trend" did not start with ISIS, but ISIS militants "certainly exemplify it," added Stern.
This year's figures highlight a "shift and an evolution in the nature of violence" being directed at journalists, Morillon said.
"We have seen it with the beheadings, the carefully staged threats against reporters, that there is a signal [being] sent to journalists."
"That not only can we kill you, but we can kill you in a barbaric manner. And we can abduct you and keep you for months and months without seeing your family," she added.
Although the numbers of journalists killed this year slightly fell from 2013 – about seven percent fewer – there has been a 30 percent rise in the number of kidnapped journalists, including those released or killed while held as hostages.
"The chief causes were the ISIS offensive in Iraq and Syria, and the turmoil in Libya, where the clashes between rival militias have not let up," said RWB adding that 40 journalists and three "netizens" are currently being held as hostages.
Up to 22 of those are currently held by armed groups in Syria; and eight are held hostage in Iraq.
Violence in Libya
Next to ISIS, Eastern Libya, where armed militants established their shadow government and parliament, stands as number two in the "Most Dangerous Areas" for journalists.
"Three journalists were gunned down on the street in thes pace of five months in 2014. The youngest was 18. Nine other journalists were kidnapped," highlighted the report.
"No one keeps count any more of those detained or threatened. Carrying a camera or a press card takes a lot of courage," it added.
In addition, twice as many journalists fled into exile this year as in 2013 due to various forms of intimidation. A total of 43 Libyan and 37 Syrian journalists have "fled into exile into 2014 to escape the chaos and death threats at home," said the report.
As for the number of imprisonments, Middle Eastern countries continue to top the list. Up to 46 journalists were arrested in Egypt in 2014 on pretexts such as "being Muslim Brotherhood sympathizers, endangering national unity, or inciting violence or riots," according to RWB. Iran also arrested 45 journalists.
Turkey is also listed as number three in the countries where most journalists are threatened or physically attacked by protestors or police, with 117 journalists reported being assaulted.
"There is indeed more and more willingness from different people whether in government officials, security forces, militia groups, organized crime, to target journalists because of their work and activities as information providers," Morillon said adding that the vast majority of journalists targeted are local journalists.
"The general environment for journalists is becoming even more violent," she added.
"Fewer journalists were killed and kidnapped in Syria than last year. That's undeniably a good thing, but it's not because Syria is any safer," Stern said. "It's because Syria has become so dangerous, fewer journalists are willing to report from inside the country."
"That's my biggest concern for journalism across the region: the danger of arrest, abduction, and even death are becoming so great, journalists may decide it's no longer worth the risk to even try," he added.
alarabiya.net