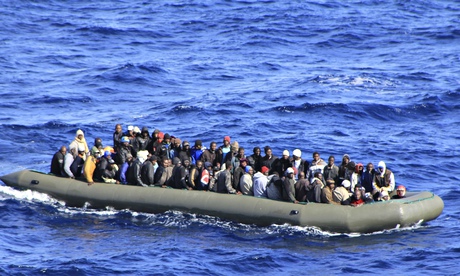 Eighteen people have been found dead, believed suffocated, inside the hold of a boat carrying migrants from North Africa to Italy. A further 400 people were saved from the crowded vessel after it was intercepted early on Saturday south of the Italian island of Lampedusa, in waters betweenLibya and Malta, by Italian and Maltese naval vessels assisted by two passing merchant ships. Three gravely ill men were rushed to the Italian island of Lampedusa, but one died en route, raising the death toll to 19. The two remaining men were taken by helicopter to a hospital in the Sicilian capital of Palermo, according to the Italian navy.
Maltese authorities said many of the bodies were in the vessel's hold. Engine fume inhalation was the apparent cause of death, the Italian navy said. Last month, 30 migrants were killed in similar circumstances.
No information was released on the nationality of the survivors, who were taken to Italy.
The Italian navy has rescued more than 4,000 migrants in the past three days, with calmer summer seas opening the way for an recent upsurge in boats trying to reach Italy. But there have also been numerous reports of casualties during this period. Among these, the Italian news agency AGI reported that a vessel capsized near the Libyan coast on Friday and up to 40 people were missing. The Italian navy could not immediately confirm the report.
Another vessel, the Panamanian-flagged City of Sidon, arrived in Porto Empedocle in Sicily on Saturday with 61 migrants on board – the survivors of another shipwreck tragedy close to Libyan waters. According to the Italian news agency ANSA, the wrecked vessel originally had 102 people on board, meaning that 41 of its passengers are feared dead.
Italy is struggling to keep up with the number of migrant boats this year, which mostly depart from the coast of an increasingly lawless Libya, and is seeking more help from the EU in both the rescue mission and in hosting new arrivals.
The United Nations refugee agency (UNHCR) estimates that more than 500 migrants have died in the Mediterranean so far this year, compared to 700 during the whole of last year. More than 70,000 migrants have been rescued by Italy's "Mare Nostrum" or "Our Sea" mission this year, the spokesman said, surpassing the previous record of just over 60,000 for the whole of 2011, when the Arab Spring uprisings lead to a peak in arrivals. Most of the current migrants come from Eritrea, Somalia and Syria, but also from Afghanistan, Pakistan and other parts of Asia, as well as sub-Saharan Africa.
theguardian