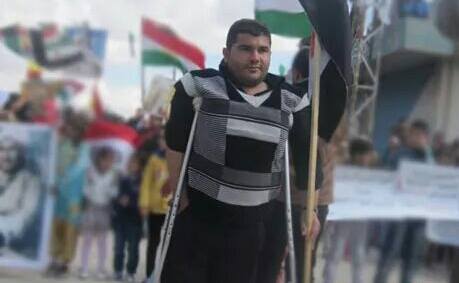 Yekiti Media
23 persons lost their lives, including tow children and a woman as a result from an explosion, which intended the civilians, who standing at Alsalle bakery's door at Alsalhiya quarter in Hassaka city on Tuesday evening 05-07-2016.
The explosion resulted by a suicidal person when he exploded him self in front of Alsalle bakery in Salhiya quarter.
Martyrs bombing of Hasaka
Martyrs' names documented according to the following:
1- Abdul Rezzaq khwesho
2-Ali Alsiekhni
3-Abdul Hadi Mohammed Amien
4-Riham Nayif Ali
5- Ussama Malik Hussein
6- Zakariya Raghib Huleil Aldudi
7- Basim Nizar okla
8- Iyda Sultan Alsalih
9-Abdul Latif Suleiman shemo
10- Ahmed Alfrej Alali
11- Adil Khelef Alali
12- Bassil Hussein Alkhalaf
13- Ibrahim Ahmed Abdul Hadi
14- Mohammed Ahmed Taha.
15- Khweshnav diraiyi Khelil
16- Yassir Ibrahim Ahmed
17- Hessen Ismayil
The injured and wounded persons' names documented as following :
1- Bana Saddam Abdullah
2-Amir Hussein Maree
3-Dawod Suleiman Alali
4-Ahmed Khalaf Thiyab
5- Shayish Hammad
6-Yassemin Salim
7- Fatimah Sultan
8-Zehrah wardeh Wardeh
9-Hessen Ahmed Issa
10-Mohammed Saliem Othman
11- Jumaa Mohammed Alaabid
12-Mohammed Mohammed Ali
13- Ruba Shddad Aleiwyi
14-Farhan Mahmoud
15-Marwan Noureldien Khalil
16-Saeed Shddad Aleiwyi
17-Ahmed Salim Daraan
18-Ramhdan Zuhier Warda
19-Diyaa Eldien Saeed
20-Abdullrhman Awad Suleiman
21-Izuldien Haj Ameen
22- Omran Yousif.