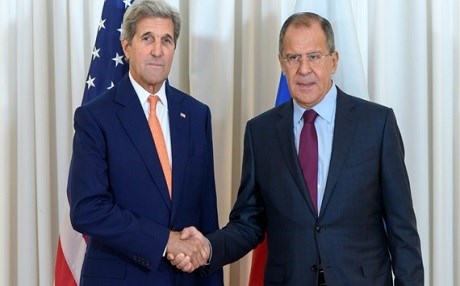 News
Russia, US: Kurds must be part of unified Syria
S Secretary of State John Kerry (L) met with Russian Foreign Minister Sergey Lavrov (R) in Geneva on Friday to discuss a ceasefire in Syria. Photo: Martial Trezzini/AFP
ERBIL, Kurdistan Region— Kurds must remain part of a unified Syria and will be a factor in resolving Syria's crisis, agreed top diplomats from Russia and the US.
"Kurds must remain a part of the Syrian state, part of resolving the problem, and not a factor that will be used to split Syria apart," said Russian Foreign Minister Sergey Lavrov on Friday.
US Secretary of State John Kerry echoed the sentiment, saying "We are for a unified Syria. We do not support an independent Kurd initiative."
Kerry added that US forces are cooperating with "a component" of Kurdish forces on a limited basis and in "close cooperation" with Turkey.
Kerry and Lavrov made their comments after a day-long meeting in Geneva on Friday where they discussed a new ceasefire in Syria. They agreed on the majority of issues but failed to reach a final deal as a few points remained unresolved.
"Today I can say that we achieved clarity on the path forward," said Kerry. The two top priorities, he detailed, are addressing the increasing influence of the Fateh al-Sham Front, formerly the al Qaeda-linked Nusra Front, and responding to violations of ceasefires by Damascus.
"We are close," Kerry said. "But we are not going to rush to an agreement until it satisfies fully the needs of the Syrian people."
Lavrov commented that "very important steps" towards a cessation of hostilities in Syria were made during the meeting and hailed an improvement in relations between the two.
"We have continued our efforts to reduce the areas where we lack understanding and trust, which in an achievement," Lavrov said. "The mutual trust is growing with every meeting."
UN envoy Staffan de Mistura joined the two diplomats briefly to discuss the negotiations for a political resolution to the conflict. Earlier in the summer, de Mistura had said he was hopeful that all parties would return to the table by the end of August to resume negotiations.
American and Russian representatives will continue to meet in Geneva over the coming days with the aim of hammering out a solid resolution.
Rudaw