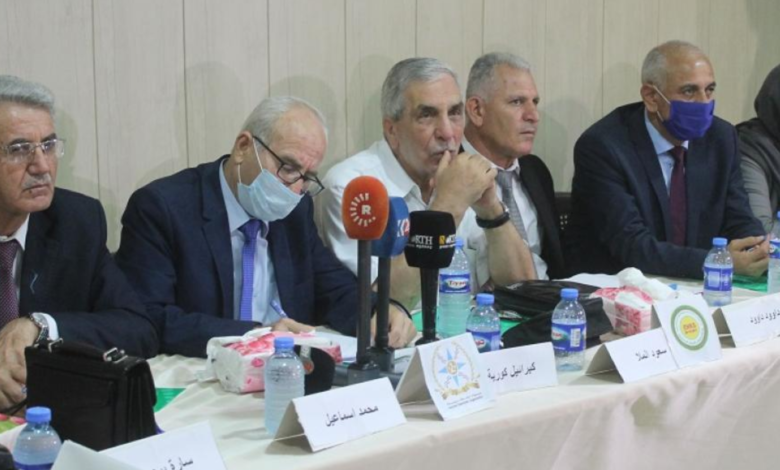 Breaking news
News
Statement regarding to the meeting of Peace and Freedom Front with representatives of the American State ( Press Statement )
Yekiti Media
A meeting was held between a delegation from the Peace and Freedom Front, which included representatives of all its components, namely: David David, Kabrael Moshe, Auda Al-Essa, Saadoun Al-Tarnabil, Muhammad Ismail and Suleiman Oso with the representative of the United States of America in Northeast Syria, Zahra Bell and her assistance Emily Brandit.
The meeting began with the American side welcoming the delegation of Peace and Freedom Front and they made it clear that the United States of America is working to unify all the spectrums of the Syrian opposition, and that our sponsorship of the Kurdish-Kurdish negotiations falls within this framework, and we thank the front's position in support of these negotiations, and that the United States of America is working to find a political solution to the crisis. By putting pressure on the regime and imposing economic sanctions on it to activate the Geneva process in accordance with international resolutions to solve the Syrian crisis, especially Resolution 2254, and we are working to secure stability in Northeastern Syria.
The Front delegation thanked the efforts of the United States and the international coalition in eliminating the terrorist organization ISIS, and that the American role in this region constitutes a balance factor for finding a political solution to the Syrian crisis.
The delegation of the Front for Peace and Freedom affirmed that the announcement of the front came as a natural result of the distinguished relations between the front parties and after alot negotiations between the components of the front that lasted for several months, and that the front will work for good relations with all the parties of the Syrian opposition and will contribute to converging views between them in order to preserve the unity of the body. Negotiating with the Syrian opposition, and we will also work to establish good relations with international and regional actors in Syria to find a political solution to the Syrian crisis that ends tyranny and preserves the dignity of the Syrians and their rights with all their components and intellectual and political paths in accordance with international decisions on resolving the Syrian crisis.
In conclusion, the two parties agreed to continue relations and work together to support the political solution in Syria.
Al-Qamishli 6 August 2020 The Peace and Freedom Front