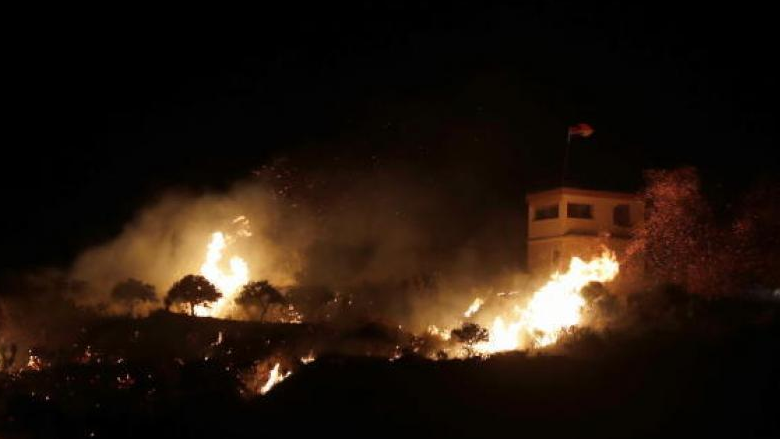 Yekiti Media
Israeli Prime Minister Benjamin Netanyahu threatened on Wednesday to punish the Syrian regime for any threats following Israeli strikes in southern Syria.
Israel had staged military strikes near al-Quneitra in southern Syria on Monday. The Israeli army announced that its strikes followed the thwarting of an attempt to plant landmines near the borders at the Golan Heights, which have been occupied by Israel since 1967.
Israeli sources said that the cell that attempted to plant the landmines is tied to Iran.
"We hit a cell and now we hit the dispatchers. We will do what is necessary in order to defend ourselves. I suggest to all of them, including Hezbollah, to consider this," Netanyahu said.
For its part, the UK-based Syrian Observatory for Human Rights (SOHR) reported that it documented from April 20 until today no less than 20 accounts of targeting Iranian presence in Syria.
It also pointed out that at least 102 were killed from Iranian forces and their loyalist proxies.
Iranian positions near Albukamal, a key border city in Syria that is near Iraq, were hit by "unidentified jets," according to SOHR. These areas are festooned with pro-Iranian militias who have entrenched themselves at a base called Imam Ali and spread like a carpet along the western bank of the Euphrates River.
The recent attacks took place between five and nine in the morning, apparently on August 3, although the reports emerged on August 4. They targeted Iranian-backed forces at Imam Ali, an area named Al-Sekka and also in the desert near Deir Ezzor.
There were casualties and weapons were destroyed.
"Military vehicles affiliated with the targeted forces transported the dead and injured," SOHR said.
The SOHR report was picked up at Al-Ain, where the report also notes that "15 Iraqi militia members loyal to Iran" were killed. The airstrikes were intensive.
Al-Ain said that a major explosion also happened at Al-Hizam al-Akhdar area near Albukamal, targeting an Iranian militia there.
aawsat