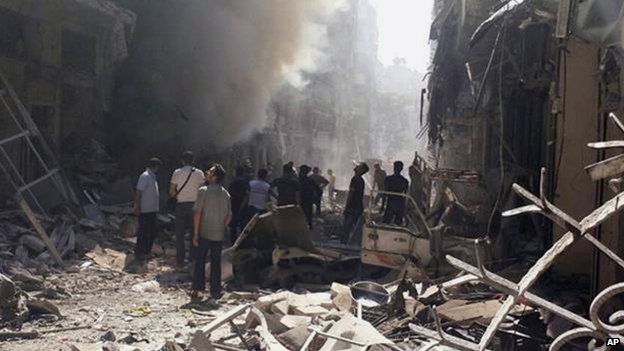 News
Syria crisis: Obama asks Congress for $500m for rebels
President Barack Obama has asked the US Congress to approve $500m (£294m) to train and equip what he described as "moderate" Syrian opposition forces.
The funds would help Syrians defend against forces aligned with President Bashar al-Assad, the White House said.
The aid would also counter Islamist militants such as the Islamic State in Iraq and the Levant (Isis), it added.
Isis's advance in neighbouring Iraq has led some in Congress to press Mr Obama to take action.
Tens of thousands of people have died and millions more have been displaced in three years of civil war in Syria, as rebels fight troops loyal to Mr Assad.
'Increase our support'
"This funding request would build on the administration's longstanding efforts to empower the moderate Syrian opposition, both civilian and armed," the White House said.
It will also "enable the Department of Defense to increase our support to vetted elements of the armed opposition".
The money will help stabilise areas under opposition control and counter terrorist threats, the White House said.
The rebels that would receive the funds would be vetted beforehand in order to alleviate concerns of equipment falling into the hands of militants hostile to the US and its allies, the White House said.
Mr Obama has been under strong pressure from some members of Congress to increase assistance in the area.
Last month Mr Obama hinted at increased help for the Syrian opposition in a speech at the military academy at West Point.
He said he would work with Congress to "ramp up support for those in the Syrian opposition who offer the best alternative to terrorists and a brutal dictator".
BBC