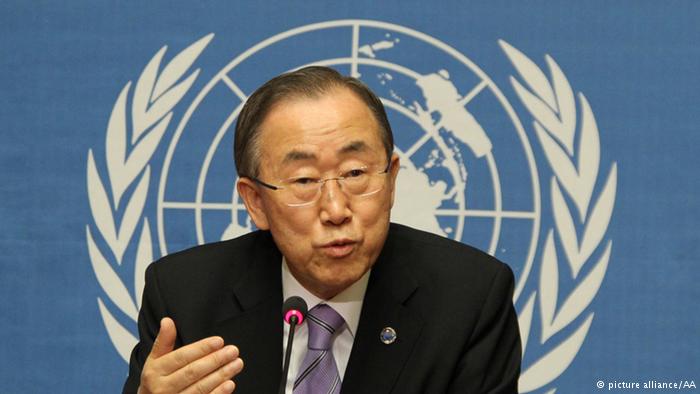 The UN secretary general has urged all countries to enforce a finance and arms embargo against the Islamist extremist group ISIS. He called on Baghdad to address the sectarianism that sparked Iraq's current crisis.
UN Secretary-General Ban Ki-moon on Tuesday sought to rally international support for an embattled Iraq, which has faltered in its fight against the Islamic State of Iraq and Syria (ISIS) amid political paralysis in Baghdad.
"I strongly condemn the upsurge of violence at the hands of ISIS and its supporters and call on (U.N.) member states, including Iraq's neighbors, to come together and support Iraq in its fight against terrorism," Ban wrote in a report for the UN Security Council.
Last year, the Security Council blacklisted the Sunni extremist group, which originally began as an al Qaeda faction before splitting off. The secretary general called for the international community to enforce the existing embargo.
"Member states must meet their obligation to implement and enforce the targeted financial sanctions, arms embargo and travel ban imposed on ISIS," Ban said. "Terrorism must not be allowed to succeed in steering Iraq away from its path towards stability and democracy."
ISIS captured large swaths of northern and western Iraq in a surprise offensive that began last month, changing its name to the Islamic State and declaring a calpihate. The extremist group has been accused of destroying religious shrines and committing mass executions.
Parliamentary speaker chosen
The secretary general called on Iraq's divided factions to end their current political deadlock, stressing the importance of "the spirit of national unity and reconciliation, non-sectarianism and non-violence."
In a possible first step toward breaking the gridlock in Baghdad, lawmakers elected moderate Sunni Salim al-Jabouri as parliamentary speaker on Tuesday.
Iraq's parliament is trying to form a new government. But the process has faltered over Prime Minister Nouri al-Maliki, who has resisted international and domestic pressure to step down, vowing instead to run for a third term.
Iraq's Sunni and Kurdish minorities have refused to work with Maliki, accusing his Shiite-led government of monopolizing political power.
Although Maliki's State of Law coalition won the April elections, his bloc fell well short of a parliamentary majority.
(AP, Reuters)