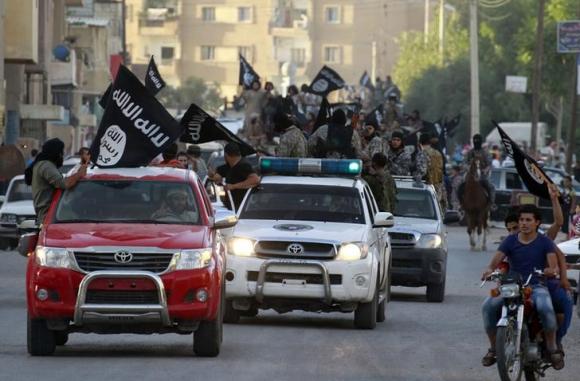 Reports & Files
Syria sees Islamist threat bringing detente with West, but not soon
(Reuters) – Syria is wagering that Islamic State's push to reshape the Middle East will eventually force a hostile West to deal with President Bashar al-Assad as the only way to tackle the threat.
While Assad's forces escalate their fight with Islamic State militants in the Syrian civil war, the United States is staging air strikes on the same group across the frontier in Iraq.
This, along with United Nations sanctions targeting the Sunni Muslim militants in bothSyria and Iraq, has strengthened Assad's belief that the United States and Europe are coming around to his way of viewing the conflict, according to sources familiar with Syrian government thinking.
Officials in the Western governments which have backed the uprising against Assad dismiss the idea of rapprochement.
Syria is not Iraq, they say.
But growing Western concern about Islamic State is stirring debate about Syria policy. More than three years into the civil war, the moderate Syrian opposition that the West hoped would prevail has been eclipsed by radical Islamists.
The Damascus government, already heartened by visits from European intelligence agencies reported by Syrian officials earlier this year, sees the war on Islamic State as opening up new possibilities for engagement.
    There is no sign of any shift in Washington, whose policy is built on Assad leaving power and last year came close to bombing Syria after accusing him of using chemical weapons. "He's part of the problem," Ben Rhodes, President Barack Obama's deputy national security adviser, said in a broadcast interview.
Assad is not expecting the West to perform a policy U-turn soon, the sources said. But having secured territory seen as vital for his survival, time is on Assad's side as he takes the long view in the struggle for Syria.
"The regime recognizes that the Western opening will be in secret, and via security channels and not diplomacy. The political-diplomatic opening needs longer," said Salem Zahran, a Lebanese journalist with close ties to the Syrian government. "But the regime believes that the whole world will come to coordinate with it under the slogan 'fighting terrorism'."
Damascus is presenting itself as a partner in fighting a common enemy which has proclaimed a cross border caliphate in the territory it controls. Islamic State fighters move freely between Iraq and Syria.
Assad's forces have suffered heavy losses at the hands of Islamic State in recent engagements, and the Syrian air force launched its heaviest raids yet on the group's stronghold in the eastern city of Raqqa last weekend.
Controlling roughly a third of Syria, Islamic State is by far the strongest insurgent group in a war that has killed 170,000 people, laid waste to much of Syria, and reduced Assad's control to western areas including Damascus.
Assad has characterized his opponents as extremists from the start of the uprising in 2011, when his forces violently suppressed peaceful protesters inspired by the Arab Spring. Critics say this encouraged radicalisation of his opponents.
SYRIA SAYS IT'S READY TO COOPERATE
Islamist groups now dominate the fragmented opposition. The second most powerful is Nusra Front – al Qaeda's official affiliate in Syria – whose rivalry with Islamic State has fueled war among the insurgents themselves.
Both Nusra Front and Islamic State were targeted by the U.N. resolution passed unanimously by the Security Council on Aug. 15. By contrast, the Council has failed to agree any tough measures against Assad in the last three years, largely due to Russian support for Damascus.
Last week's U.N. session was broadcast on Syrian TV. Deputy Foreign Minister Faysal Mekdad said it represented "the international community's will to fight terrorism".
"Syria will not hesitate to cooperate with any state in fighting terrorism, apart from those who claim to be fighting it while funding it, supporting it, backing it," he said – an apparent reference to Sunni Muslim Gulf states that have backed the insurgency with weapons and cash.
Saudi Arabia, its hostility flowing from Assad's alliance with Shi'ite Muslim Iran, appears increasingly worried by Islamic State's strength. While many believe Riyadh's puritanical brand of Islam is to blame for the spread of radical Sunni Islamism, the top Saudi cleric denounced Islamic State and al Qaeda this week as "enemy number one of Islam".
The United States, concerned by financing reaching Islamic State from sympathizers, is working with governments in the region to get them to clamp down even further on funding, State Department spokeswoman Marie Harf said.
Other Islamist rebels in Syria are in retreat. Fighting under the umbrella of the Islamic Front, they are under pressure from Islamic State advances north of Aleppo, a major Syrian city also being surrounded by government forces.
The Free Syrian Army, once the West's main hope for a moderate opposition to Assad, is now widely seen as irrelevant.
"Assad has backed the opposition into a corner. They have fulfilled every item on his wish list – to become bloodier than he, to become a bunch of head choppers and Islamist radicals," said Joshua Landis, an expert on Syria based at the University of Oklahoma.
Western states that have demonized Assad would find it hard to reengage with him, said Landis. But he has friends who will be lobbying for that approach, including the new Shi'ite prime minister-designate of Iraq, Haider al-Abadi.
"Assad needs to present himself as a partner for the United States, and to help promote an argument that undoubtedly Iran and the new prime minister of Iraq are going to make: that you can't be against (Islamic State) and Assad," said Landis.
"WORK WITH IRAN"
This poses a dilemma for the West. Only last year, Obama sought permission from Congress for air strikes against Assad after accusing him of using chemical weapons against his people – a claim denied by the government. The strikes were averted by a Russian-brokered deal under which Assad agreed to hand over his stocks of chemical weapons.
Responding to the calls for Washington to consider working with Assad, Rhodes said it was his policies that had enabled Islamic State to establish a safe haven in Syria. Instead, the U.S. administration is focused on strengthening Iraqi security forces and moderate Syrian opposition forces, he said.
But former British foreign minister Malcolm Rifkind said this week that the moderate opposition was "in disarray". "The (Islamic State) terrorists are fast becoming the main serious opponents to the pro-Iranian government in Damascus", he said.
Writing in Britain's Daily Telegraph newspaper, he argued for cooperation with Iran in confronting Islamic State in Iraq and Syria: "If we have to work with Iran to defeat Islamic State, so be it."
    Islamic State's areas of control are far from those of primary concern to the Syrian government, notably Damascus and a strategic corridor of territory stretching north to the coast, the heartland of Assad's Alawite minority community that forms his power base. That area is now mostly under Assad's control.
"MASSIVE INCREASE IN CAPABILITIES"
Islamic State has taken three Syrian army bases in Raqqa in recent weeks, expanding its arsenal by 20 long-range artillery guns and least 22 tanks, a Western official said, basing the analysis on images posted online.
"It's a massive increase in their capabilities but they are not trained in how to use them," said the official. The Syrian air force launched dozens of air strikes on Raqqa over the weekend, coinciding with the U.S. attacks that have helped to dislodge Islamic State from the Mosul dam in Iraq.
Critics ask why until recently Damascus had appeared to leave Islamic State to its own devices, citing missed chances to hit the group's convoys and accusing Assad of allowing it to crush other opposition groups. But this is changing.
Many hundreds of Assad loyalists have been killed since Islamic State intensified its attacks on government-held areas in June, according to the Syrian Observatory for Human Rights, which monitors the war. The Syrian air force also bombed advancing Islamic State fighters near Aleppo this week.
Ghaleb Kandil, another Lebanese journalist with close ties to the Syrian government, said the West would be forced to deal with Assad sooner or later. In return for security cooperation, Assad would demand full political rehabilitation.
"The Syrian state is the only body with adequate intelligence about the terrorists," he said.