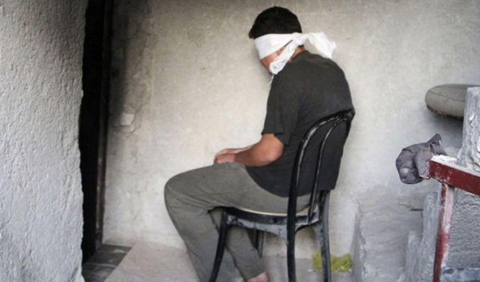 On Monday, the Syrian Network for Human Rights (SNHR) documented that at least 529 people were arbitrarily arrested in Syria last November; the Syrian government forces arrested 70 percent of them. The SNHR also documented more than 7,000 arrests since the beginning of 2018.
The SNHR is a non-governmental and non-partisan organization, founded in June 2011, that monitors the Syrian Civil War. It is committed to all international criteria and declarations. SNHR aims to document human rights violations in Syria and to defend Syrian human rights in front of international forums and bodies
In a report on its official website, the SNHR said that in November, the Syrian government forces arrested 368 people, including 22 children and 24 women.
The report stated that the Kurdish People's Protection Units arrested 107 people, including nine children and three women, while the Hayat Tahrir al-Sham (HTS) arrested 19 people. Moreover, the Islamic State (IS) arrested nine people, including a child, while Free Syrian Army factions and Islamic battalions arrested 26 people, including two children.
The report also said that there are 105 checkpoints in Syria, 68 of them in the Syrian government forces-controlled areas, and 21 in the Kurdish Autonomous Administration-controlled areas. The report also documented eight checkpoints in HTS-controlled regions, six checkpoints in military factions-controlled areas, and two checkpoints in the IS-controlled areas.
The SNHR also documented the arrest of 7126 people. It also revealed lists of more than 140 thousand people, including children and women arrested since the beginning of the Syrian Revolution in March 2011, indicating that the number of detainees exceeded 215 thousand according to its estimates.
Earlier, the Syrian Network for Human Rights (SNHR) documented the killing of 231 civilians in Syria in November 2018. The SNHR said that most of the civilians were killed due to United States-led International Coalition bombings against the Islamic State (IS) and shelling by the Syrian government forces and allied Iranian militias.
Smart