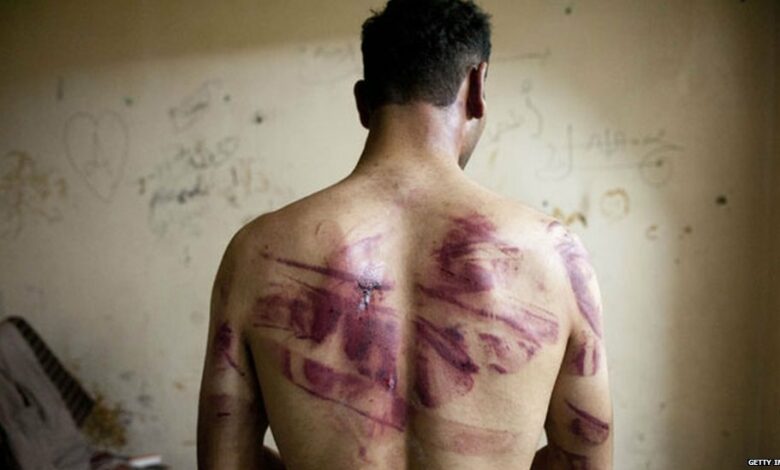 Thousands of Syrians have vanished without a trace, forcibly "disappeared", since the country's uprising began in March 2011. Held incommunicado by the regime or militant groups at secret locations across the country, detainees are often kept in inhuman conditions. Some are tortured, others go on to be killed. For relatives left behind, the pain of not knowing what has happened to their loved ones is intolerable.
The recent beheadings of Western hostages by Islamic State militants in Syria sparked horror and outrage around the world. Yet many more Syrians are also suffering at the hands of kidnappers from violent rebel groups or government security forces – their existence often denied by their captors.
According to human rights groups, thousands of men and women – as well as some children – have been snatched from the country's streets, homes and workplaces before being taken to official or secret detention facilities. They can languish there for years without legal recourse or contact with their families.
Such enforced disappearances and arbitrary detentions have been a feature of the Syrian uprising since it began, says Lama Fakih, Syria and Lebanon researcher for Human Rights Watch (HRW).
But, while in the first instance the target was primarily protesters, Ms Fakih explains, as time went on human rights activists, journalists and lawyers – the legitimate monitors of government activity – also became victims.
Many just disappeared, leaving families with no knowledge of their whereabouts, she says.
"In effect, these people just vanished."
'Infidels, enemies of God'Continue reading the main story
Continue reading the main story
This is exactly what happened to 53-year-old writer and human rights activist Samira al-Khalil.
Her husband, Yassin al-Hajj Saleh, describes how Samira was snatched along with three of her colleagues – human rights lawyer Razan Zeitouneh, Razan's husband Wa'el Hamadeh and lawyer Nathim Hamadi. They were kidnapped on 9 December 2013, one day before the country's annual Human Rights Day.
A group of masked, armed men stormed Samira's office on the outskirts of Damascus in East Ghouta, says Yassin, capturing the four of them along with their laptops. One of those abducted was on a Skype call with his brother at the time. He overheard the captors shouting "infidels" and "enemies of God" at their victims.
Yassin, also a campaigner and writer, was "in total shock" after hearing the news via phone calls from friends.
"I didn't do anything, I couldn't do anything," he recalls.
The abductors, Yassin believes, were members of the militant Islamist group Jaysh al-Islam, which controlled parts of Damascus at the time. They objected to Razan's plans to set up a judicial organisation in the capital's east, he says.
Continue reading the main story
It represents a long struggle that did not just start today, or with the Syrian revolution, but a long time ago, as part of our struggle with the Syrian regime itself
Getty Images
But, he argues, such arbitrary arrests and prolonged detention without trial are "not new" to his home country.
Continue reading the main story
"
Start Quote
We don't know if they have enough food, clothes – if they can see the sunlight, go for walks"
Yassin al-Hajj Saleh on his wife and friends' detention
"It represents a long struggle that did not just start today, or with the beginning of the Syrian revolution, but a long time ago, as part of our struggle with the Syrian regime itself."
Yassin is speaking from experience. Now 53, he was just 19 when he was arrested by the regime for being a member of a communist opposition organisation. He went on to be held for 16 years.
Moved from place to place, it was his last year in prison that turned out to be the worst.
"I was constantly tortured, slapped, hit and lashed," he says. "In some cases, they used hunger as a torture method. Imagine getting four olives for breakfast for months. It was very painful."
For this reason, he fears for the health and safety of his wife and her colleagues.
"We don't know if they have enough food, clothes – if they can see the sunlight, go for walks or are in good health," Yassin says. "It is exactly these things that I experienced myself, along with hundreds of my friends who were detained."
Scale of disappearancesMass arrests by regime forces, leading to the enforced disappearance of large groups of fighting-age men, have been documented by the UN's Commission of Inquiry on the Syrian Arab Republic – set up in 2011 to record the conflict's war crimes.
Such incommunicado detentions have been employed by the government to "silence the opposition and spread fear amongst relatives and friends of demonstrators, activists and bloggers", the commission says.
Continue reading the main story
Held in Syria
85,000
people estimated to be detained arbitrarily in regime jails
2,600 records of people missing without a trace

1,200 records of people kidnapped and held by armed groups
Reuters
The Syrian Network for Human Rights estimates as many as 85,000 people are currently being held arbitrarily by the regime.
Syria's Violation Documentation Center (VDC), which has been recording human rights violations in Syria since April 2011, also believes the number runs into the "dozens of thousands".
On top of this, the VDC has records of more than 1,200 people kidnapped by armed groups – mostly by the jihadist Islamic State (formerly known as Isis). A further 2,600 people are documented as missing without a trace, the VDC says.
However, the UN's human rights office believes the true scale of forced disappearances will only be fully grasped in the aftermath of the conflict.
Continue reading the main story
What are enforced disappearances?
An enforced disappearance is an arrest, detention or abduction, followed by the captors' refusal to acknowledge it occurred. The fate or whereabouts of those "disappeared" is therefore concealed from family and friends. It also places the detainee outside the protection of the law.
Cases of enforced disappearances carried out by the Syrian regime were first documented by the UN's Commission of Inquiry on the Syrian Arab Republic during the pro-democracy protests in March 2011. Numbers escalated as unrest turned into armed conflict. In some instances, the disappearances appeared to have a punitive element, targeting family members of defectors, activists and fighters as well as those believed to be providing medical care to the opposition.
During the last two years a number of anti-government armed groups have adopted similar techniques, abducting civilians perceived to be unsupportive of their cause. While some of these kidnappings can be classed as enforced disappearances, with victims vanishing without a trace, other detainees have been taken hostage – placed under the threat of death until their release is negotiated for ransom or a prisoner exchange.
Source: UN human rights office
Testimony from those who have survived arbitrary detention or forced disappearances has revealed how victims endure desperate conditions with little or no legal representation. Human Rights Watch (HRW) has documented systematic torture at 27 government-run detention facilities across the Syrian regions of Aleppo, Damascus, Daraa, Homs, Idlib and Latakia.
Detainees, questioned by HRW investigators, tell of overcrowded cells where captives are forced to remain standing or take turns sleeping. Many describe being deprived of food, while others recall being kept blindfolded, handcuffed or even naked.
They also describe prolonged beatings, rape, electrocution, mock executions, burning and the extraction of finger and toenails. Some of those held die as a result of their maltreatment.
By Lucy Rodgers and Faisal IrshaidBBC News