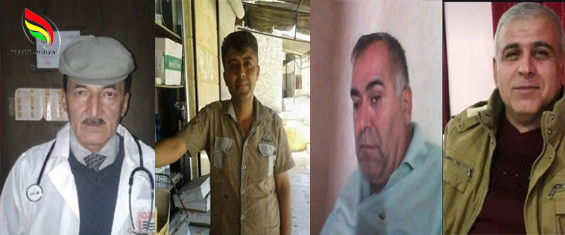 Breaking news
News
The armed factions is continuing doing crimes and violations in the right of Kurdish civilians in Afrin city
Yekiti Media
The military factions loyal to the Turkish occupation in Afrin city are continuing it's crimes and violations in the right of the city sons from arrest and torture.
In the date of 26 January the gunmen from Faylaq Almjd (Glory Corps) and Faylaq AlSham (The Sham corps) arrested the doctor Adnan Bstan and tortured him brutally.
And also the young Kurdish man Ebrahim Omar has been beaten by a gunman from AlAmshat corps in Shey area .
And yesterday on Sunday the gunmen arrested the Kurdish civil Aref Mohamed during his shopping for personal needs.
The civil Kamiran Ali Thibo from Afraza village died affected by his injury by a car bomb in Afrin city at the end of the last year in suq Alhal (Alhal market) .
Mustafa Shekho the member of the local council in Shey area he was beaten and insulted by gunmen from Alsultan Suliman Shah faction and Alamshat faction
A lot of horrors and crimes committ by the Islamic oppositions factions in the right of the Kurdish civilians in Afrin city since the Turkish occupation in the last March in 2018