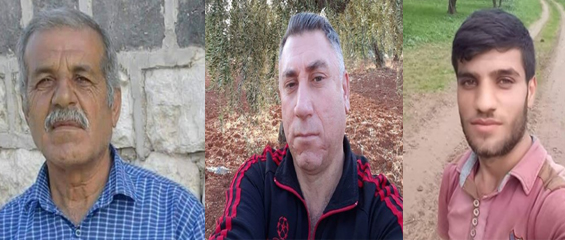 Breaking news
News
The Armed Factions Is making A Campaign of Arrests In The Right Of Kurdish Civilians In Afrin City
Yekiti Media
Armed factions arrested  many Kurdish civilians and moved them to unknown places through the last few days ago in Afrin and their fate is still unknown.
The military police arrested the Dr. Awwash Sami Mohamed in Afrin city after raiding her house in Qtma village in Shra area on Friday 22 February.
And also the military police arrested the young man Rodin Mohamed Oso after raiding the sweets shop which he works in ,on Thursday 12 February and he is from "Qstl Keshk" in Shra area.
Armed men arrested the young man Abdullah Shwki after raiding his house in Shia area on Thursday.
And in the same context activists said that the fate of the young man AbdAlrhman Khalil Othman is still unknown since his arresting in jolaq village in jndirs area during August 2018 .
And also the activists said that the fate of the Kurdish  man Mohamed Shwqi 57 years old is still unknown after his arresting before 11 months by Alamshat faction in Shia and.
The military police arrested the lawyer Mohamed Mostafa Blal in the  court during his defense of the detainees on Thursday and he is from Shia area.
and it is worth mentioning that the arresting situations come to blackmail the detainees' relatives for financial ransom and to pressure the Kurds to emigrate from Afrin.