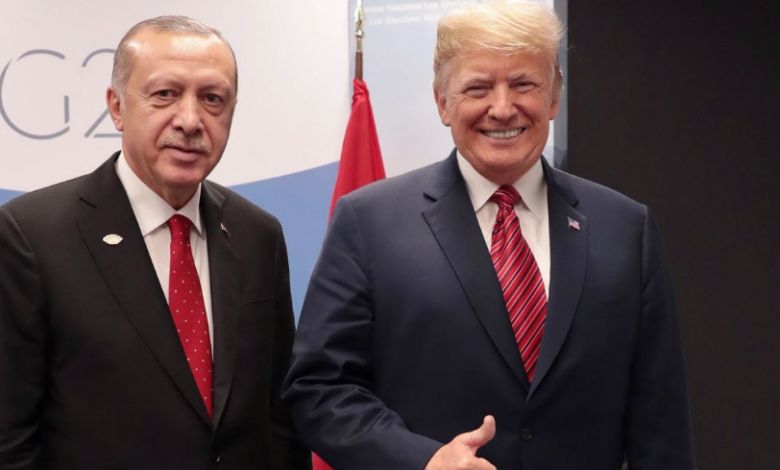 Yekiti Media
The Trump administration is working furiously to avert a new Turkish military offensive against the U.S.'s Kurdish partners in Syria, hoping to forestall an assault that could endanger U.S.forces working in the country and derail the fight against Islamic State.
President Trump spoke Friday with Turkish President Recep Tayyip Erdogan and urged him to call off his threatened assault, according to U.S. officials.
Mr. Erdogan voiced his longstanding concerns about the Kurdish fighters in Syria, which he views as an arm of Kurdish militants in Turkey, according to a Turkish official.
The two men "agreed on the need for more effective coordination" in Syria, the official said, but it wasn't immediately clear if they had reached a deal to avert Mr. Erdogan's looming offensive.
Earlier this week, Mr. Erdogan threatened to launch the operation within days, triggering widespread alarm in Washington.
U.S. officials warned Mr. Erdogan in public statements that the threatened assault was unacceptable because it could pose a danger to U.S. forces working in northeastern Syria with the Kurdish fighters that Turkey plans to attack.
American military officials are also worried that a Turkish offensive would derail U.S.-backed efforts to seize the last remaining Syrian sanctuaries for Islamic State fighters. The Kurdish forces in Syria have been spearheading the fight against Islamic State, and a Turkish military offensive would force them to turn their attention to defending themselves.
A Turkish offensive could also force the Trump administration to rethink its broader Syria strategy. Beyond the fight against Islamic State, the U.S.'s military presence on the ground has provided Washington with a crucial vantage point to monitor Iranian and Russian operations in the country, and assurance it would have a say in any peace deal.
U.S. military and diplomatic officials have also urged their Turkish counterparts to rethink their threats.
On Thursday, Secretary of State Mike Pompeo spoke with Turkish Foreign Minister Mevlut Cavusoglu and Gen. Joe Dunford, chairman of the Joint Chiefs of Staff, spoke with Gen. Yasar Guler, the chief of the Turkish General Staff, according to U.S. officials.
U.S. ties to the Kurdish forces in Syria have been a longstanding source of friction between Washington and Ankara.
The U.S. military began working with the fighters in 2014, when Washington was struggling to find reliable Syrian fighters capable of fighting Islamic State.
Since then, the U.S. has strengthened its ties with the Kurdish-led Syrian Democratic Forces and helped them carve out a quasi-autonomous region in northeastern Syria along the Turkish border.About 2,000 U.S. forces work in northeastern Syria, where they provide the SDF with military support that has pushed Islamic State to the brink of defeat.
The American-backed fighters have been trying for months to capture the last Islamic State forces, and the campaign has stepped up its tempo in recent days.
Some U.S. officials worry that a Turkish offensive could effectively end the fight against Islamic State, which could allow the extremist group to escape and regroup.
The U.S. and Turkey have tried a number of ways to defuse tensions in Syria. The two countries agreed to carry out joint patrols in a small strategic city freed of Islamic State control by Kurdish forces.
The U.S. set up new observation posts in northeastern Syria along the Turkish border, a move that angered Turkish leaders who saw them as a new effort by Washington to thwart any Turkish moves against their Kurdish rivals.
WSJ