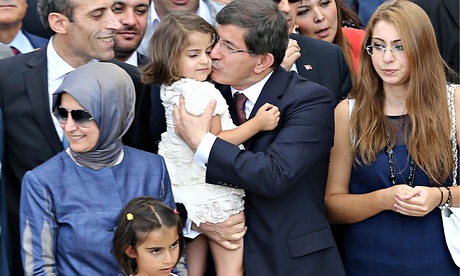 Turkey has welcomed home 46 hostages freed by Islamic State (Isis) in mysterious circumstances, hours after opening its borders to tens of thousands of Syrian Kurds fleeing another advance by the extremist group.
The captives were seized at Turkey's consulate in Mosul in early June, when the city fell during a lightning Isis advance across the area. They included diplomats and their children, special forces soldiers and the consul general, as well as three Iraqis who stayed in their country after their release.
Concerns about their safety were one of the main reasons cited by Ankara for staying out of a US-led coalition against Isis. Turkey has also refused to let American drones and fighter planes use Turkish airbases for bombing raids on the group.
Turkish leaders celebrating the release refused to go into detail about how they secured such a massive political coup. The prime minister, Ahmet Davutoglu, said there had been no special forces operations, and instead the country's intelligence agency had used their "own methods", but gave no further details.
"After intense efforts that lasted days and weeks, in the early hours our citizens were handed over to us and we brought them back to our country," Davutoglu said, as scenes of joyous reunion were broadcast on live television.
The state-run Anadolu Agency reported that no ransom had been paid and no deal struck with Isis, but did not give any source for the reporting.
"I think it's fair to say that we haven't been told the full story," Aaron Stein, an associate fellow at the London-based Royal United Services Institute, who has studied Turkey's security policy, told the Associated Press.
The release was unlikely to change Turkey's stance on bases or joining the coalition, he said, although it may feel freer to publicise current efforts such as a crackdown on oil smuggling across the border. "There will be some changes, but not as much as people hope," Stein said.
It was not clear where the hostages had been handed over by Isis. During more than three months in captivity, they were held in and around Mosul in difficult conditions, moved at least eight times as fighting raged.
"[Isis] treated us a little better because we are Muslims. But we weren't that comfortable. There was a war going on," Alparslan Yel told the Associated Press.
Militants trying to force the consul to make a video statement had put a gun to his head and threatened to kill him, but he defied them, another former captive said. The consul himself, Ozturk Yilmaz, declined to comment. "I haven't seen my family for 102 days. All I want to do is to go home with them," he said.
The president, Recep Tayyip Erdogan, who is likely to enjoy a political boost from the dramatic release, said the group were freed through "a successful operation".
"I thank the prime minister and his colleagues for this operation, which was pre-planned, whose every detail was calculated, which lasted through the night in total secrecy and ended successfully this morning," Erdogan said in a statement.
Iraqi military spokesman Lieutenant-General Qassim al-Moussawi said that the government had no information about the release of the hostages and didn't know where they had been held or where they were released.
The celebrations in Ankara contrasted with desperation at the border withSyria, where up to 45,000 Kurds streamed through eight crossings along a 20-mile stretch of border, opened to allow them to flee an Isis advance. Extremist fighters have seized control of up to 60 Kurdish villages in the area during a two-day campaign, targeting the city of Kobane or Ain al-Arab. If they succeed in taking control, tens of thousands more Kurds could flee into Turkey.
Syria's exiled opposition National Coalition has warned of the danger of a massacre in the area, where Kurdish fighters, who have resisted Isis for months, have been forced to retreat in recent days.
"Clashes started in the morning and we fled by car. We were 30 families in total," Lokman Isa, 34, a farmer who had crossed into Turkey, told the Reuters news agency. He said Isis fighters entered his village, Celebi, with heavy weapons, while the Kurdish forces battling them only had light arms. "They have destroyed every place they have gone to. We saw what they did in Iraq in Sinjar and we fled in fear," he said as he waited in the town of Suruc for Turkish authorities to set up a camp. Another refugee appealed for international help. "The US, Turkey, Russia, friendly countries, must help us. They must bomb Islamic State."
"All they can do is cut off heads, they have nothing to do with Islam," said Mustafa Saleh, 30, waiting to be assigned a tent in the grounds of a boarding school. "I would have fought to my last drop of blood against Islamic State, but I had to bring the women and children."
At least 11 Kurdish civilians, some of them children, had already been killed by Isis fighters in villages near Kobani, Rami Abdulrahman, who runs the Syrian Observatory for Human Rights, told Reuters.
More than 300 Kurdish fighters have crossed from Syria into Turkey to try to push back Isis. The extremist group's fighters are now within 10 miles of Kobani, equipped with rockets, artillery, tanks and armoured vehicles, the head of Kurdish forces defending the city said. Iraqi Kurdish leader Masoud Barzani called on Friday for international intervention to protect Kobani, saying the insurgents must be "hit and destroyed wherever they are". The US is drawing up plans for military action by an international coalition against Isis in Syria, but will have to move fast if it is to prevent Kobani falling.
The Guardian