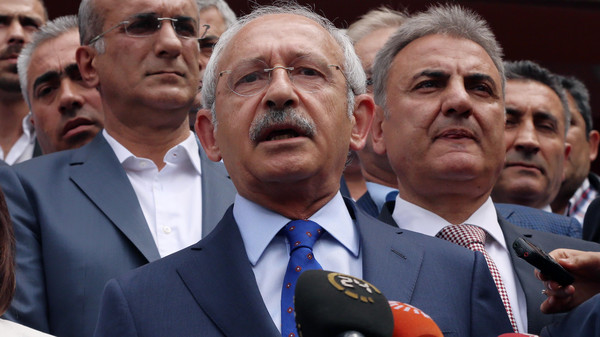 Turkey's main secularist opposition suggested rotating the post of prime minister with a nationalist party on Friday, in an effort to win support for a coalition government excluding the ruling AK Party.
The AKP lost its parliamentary majority for the first time in a June 7 election, dealing a blow to President Tayyip Erdogan's ambitions of amassing greater power and leaving the party he founded in need of a junior coalition partner.
Erdogan is expected to formally ask Prime Minister Ahmet Davutoglu, leader of the AKP, next week to try to form a coalition. If Davutoglu fails, Erdogan could then ask the second biggest party, the Republican People's Party (CHP), to try to form a working government.
If no coalition can be formed after 45 days, a fresh election would be called.
CHP leader Kemal Kilicdaroglu, eager for an opposition coalition, suggested making Devlet Bahceli, leader of the Nationalist Movement Party (MHP), prime minister in a deal which would exclude the AKP.
"I view a coalition with the MHP positively," Kilicdaroglu told the Sozcu newspaper, a fierce critic of the AKP. "If they want to, we could even make the post of prime minister rotating. Let (Bahceli) come and be prime minister in this coalition."
Turkey's opposition parties lack strong leaders and have in the past struggled to form lasting coalitions. All this could in the longer run work in the AK party's and Erdogan's favour.
Kurdish Factor
The likeliest coalition options would involve the AKP, which remains Turkey's biggest party after winning 258 seats in this month's vote, 18 short of a majority in the 550-seat assembly.
The CHP has 132 seats, while the MHP and pro-Kurdish Peoples' Democratic Party (HDP) have 80 seats each.
A CHP-MHP coalition would require the support of deputies from either the HDP or AKP to win a confidence vote and govern.
However, the MHP has said it would not be involved in a coalition drawing support from the HDP, which it views as linked to the militant Kurdistan Workers Party (PKK) – a group designated as terrorist by Ankara, the United States and EU.
"We will not take part in such a coalition (with HDP support)," MHP deputy Yusuf Halacoglu told reporters in response to Kilicdaroglu's comments.
"(Bahceli) will not give ground on principles for the sake of being prime minister."
The AKP has ruled Turkey single-handedly since winning its first parliamentary election in 2002. If efforts to form a coalition fail after 45 days, a snap election could be held.
Erdogan had hoped the election would strengthen AKP rule, paving the way for constitutional change which would widen his powers. But his haste to forge a presidential system is seen by many as a factor in the AKP losing its majority.
Alarabiya